Posted on
Fri, Jan 27, 2012 : 4:23 p.m.
Johnson & Johnson renames HealthMedia unit after mix of Ann Arbor layoffs, hiring
By Nathan Bomey
Johnson & Johnson quietly renamed its Ann Arbor-based HealthMedia unit earlier this month after an uneven year of simultaneous layoffs and job growth.
The New Jersey-based giant wrapped the HealthMedia unit into a single Ann Arbor-based subsidiary called Wellness & Prevention Inc. in a merger finalized Jan. 2.
The new subsidiary encompasses all of Johnson & Johnson's healthy living consulting and software initiatives, including a division previously called Human Performance Institute Inc.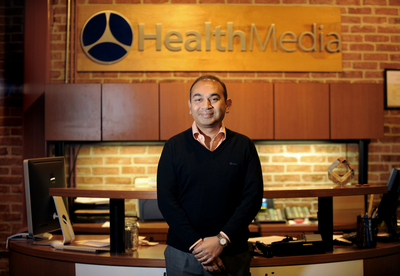 Melanie Maxwell | AnnArbor.com
The company plans to continue branding its health coaching software as HealthMedia.
HealthMedia, co-founded by University of Michigan professor Victor Strecher and now-Michigan Gov. Rick Snyder about a decade ago, was one of the biggest startup success stories during the last decade in the Ann Arbor area.
The company, led by CEO Ted Dacko, nearly collapsed in the wake of the tech bubble bust, but eventually grew, secured a deep roster of large clients and was sold in a blockbuster deal to J&J in 2008.
Although the sale price was never revealed, the University of Michigan spinoff is believed to have been sold for around $200 million.
Based in offices on First Street in downtown Ann Arbor, the company had about 150 to 200 employees and contractors as recently as a year ago — although J&J won't offer a specific figure.
Caren Kenney, a HealthMedia veteran and now spokeswoman for Wellness & Prevention Inc., said the new unit's headquarters would be in Ann Arbor.
"By merging into a stronger, more unified organization, we will be better able to enhance our product offerings, accelerate innovation, simplify business processes and — most importantly — better serve the needs of our customers," Kenney said in an email.
Kenney confirmed that HealthMedia implemented some layoffs in December "in line with the merger of the companies which help us better serve customer needs and remain competitive in the marketplace."
But she emphasized that the company is experiencing "continuous growth" and will "continue to invest in the business and hire in the Ann Arbor area as well as throughout the country."
HealthMedia's president, Sanjay Gupta, was not available for comment. Gupta, who succeeded Dacko in early 2010 as president of HealthMedia, succeeds Calvin Schmidt, who had led the previous version of J&J's Wellness & Prevention unit.
Strecher is listed as the company's chief science officer on its website.
The HealthMedia change comes as Johnson & Johnson faces pressure from investors to boost profit after a number of drug and medical device recalls over the last few years.
J&J CEO Bill Weldon didn't mention the shift in Wellness & Prevention strategy Tuesday during a conference call with investors and analysts, according to a transcript.
"Market insights, knowledgeable sharing and collaboration amongst our business partners make us powerful partners across Johnson & Johnson to fight against diseases and other diseases through meaningful innovation," Weldon told investors. "But just as important as the way we innovate is the way we operate. We have spent a great deal of management attention in recent years on building a more agile and responsive Johnson & Johnson."
When J&J announced in November 2008 that it would acquire HealthMedia, it simultaneously announced that the company would serve as the anchor for a new wellness and prevention focus. Analysts described it as a rare move for a major global company to design a special unit around an acquisition that was only reaping around $20 million in annual revenue.
At the time, Weldon described wellness and prevention as an opportunity to "deliver new growth for our company."
The U.S. Centers for Disease Control and Prevention estimates that more than 75 percent of health care costs are related to chronic disease.
"This acquisition represents a critical first step in Johnson & Johnson's commitment to providing products and services that enable consumers to adopt lifestyles and behaviors that reduce the risk of preventable chronic diseases and sustain good health," Weldon said in a statement at the time.
Contact AnnArbor.com's Nathan Bomey at (734) 623-2587 or nathanbomey@annarbor.com. You can also follow him on Twitter or subscribe to AnnArbor.com's newsletters.