Posted on
Tue, Nov 27, 2012 : 10:09 a.m.
Ken Nisbet, CEO Podcasts: Conversation on Economic Opportunity
By Paul Krutko, SPARK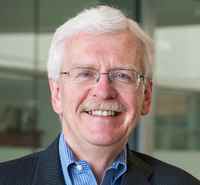 Ken Nisbet, Executive Director of U-M Tech Transfer
Ann Arbor SPARK CEO Podcasts: Conversations on Economic Opportunity capture the flavor of my one-on-one conversations with over one hundred key economic leaders in the region, including private sector CEOs, elected and appointed public sector leaders, and the executive leadership of key non-profit and academic institutions. The podcast series is designed to not only highlight that expertise, but also make it available to others who could benefit from the wisdom those business leaders can share.
Ken Nisbet is the executive director of Tech Transfer at University of Michigan (U-M). Under Ken's leadership, U-M has achieved substantial growth in tech transfer performance and established a reputation as one of the leading tech transfer offices in the nation.
In my conversation with Ken, he explains how U-M Tech Transfer works with inventors and how this collaboration resulted in a record-breaking 368 inventions in the last fiscal year. He also highlights the potential for turning inventions into new companies and gives advice on what it takes to start a company.
Check out more CEO Podcasts: Conversations on Economic Opportunity on the Ann Arbor SPARK website!