Posted on
Sat, Jul 7, 2012 : 5:58 a.m.
Kentucky Fried Chicken on West Stadium closes
By Katrease Stafford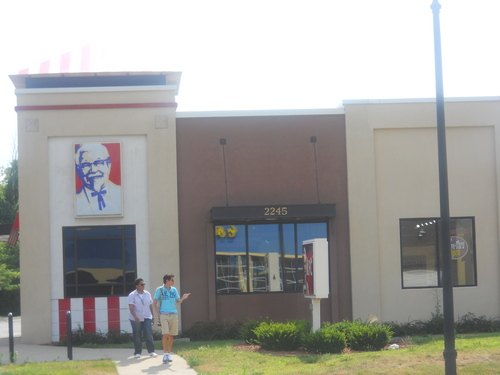 Katrease Stafford | AnnArbor.com
The Kentucky Fried Chicken located at 2245 W. Stadium officially closed its doors Friday, June 29.
A sign posted on the store window informed customers of the restaurant's closure.
The notice did not give any reasoning behind the decision, but advised customers to go to the nearest location at 4040 Washtenaw Avenue.
However, the manager at the Washtenaw location declined to comment on the reason for the closing.
The seafood restaurant Long John Silver's inhabited half of the building at one point and is now also closed. With the closure of that location, there are no Long John Silver's in the Ann Arbor or Ypsilanti area. The closest location is in Westland.
The building formerly occupied by KFC and Long John Silver is 2,500 square feet at the intersection of West Stadium and West Liberty. The building was last listed as being owned by Leo Fox, who purchased the space in 1998. Multiple attempts to reach Fox were unsuccessful.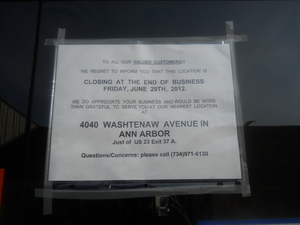 Katrease Stafford | AnnArbor.com
The 2012 assessed value of the building is valued at $376,400. The property was listed for lease this spring for $30 per square foot, but no information was available this week on whether a new tenant is moving in.
The KFC Corporation is based in Louisville,Kentucky and was founded in 1952. KFC has more than 15,000 outlets in 105 countries and territories around the world.
KFC is part of the Yum! Brands, Inc., which is also based in Louisville. Yum! has more than 37,000 restaurants across the globe and owns KFC, Pizza Hut and Taco Bell. In 2011, the company generated $1.3 billion in net earnings.
Long John Silver's opened its first restaurant in 1969 in Lexington, Kentucky.
The restaurant was once a division of Yum! Brands but the corporation announced Sept. 22, 2011 that it signed definitive agreements to sell not only Long John Silver's, Inc. but also A&W Restaurants, Inc. to two separate buyers. Long John Silver's was acquired by LJS Partners LLC, an assortment of franchisee leaders and investors.