Posted on
Thu, Jan 31, 2013 : 5:59 a.m.
Kerrytown Place: Developer proposes condominiums for former Greek church property
By Lizzy Alfs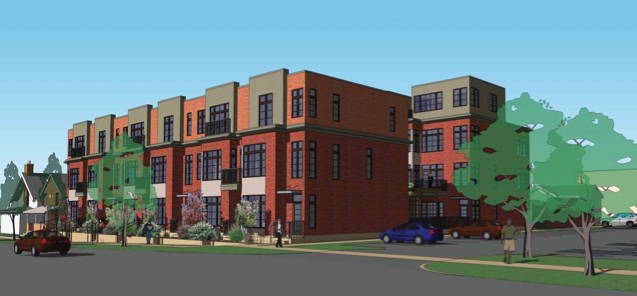 Rendering by Robert Latsko
An Ann Arbor property most recently occupied by a dilapidated church building could soon become an "urban-style" condominium development called
Kerrytown Place
.
Tom Fitzsimmons of Huron Contracting LLC submitted plans this week to Ann Arbor's Design Review Board to construct a three-building, 19-unit condo project on the former Greek church property at 414 N. Main St.
Fitzsimmons, who has built dozens of homes in the neighborhoods surrounding downtown, purchased the Greek church site at tax foreclosure auction last year for $610,200 — well above the minimum bid price of $365,051.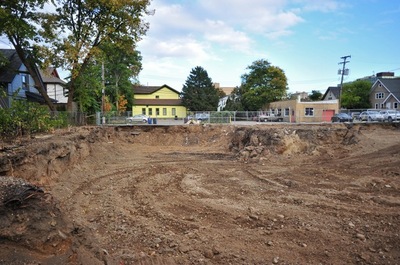 Ryan J. Stanton | AnnArbor.com
"We're residential developers and we're developing a low-rise residential project that we think is a great addition to the area," Fitzsimmons said.
Serving as a gateway into downtown Ann Arbor, the property was targeted for development in 2006 when the 11-story, mixed-use building called The Gallery was proposed. That project was stalled as the Greek church building fell into disrepair, and the property eventually was turned over to the county treasurer following a tax foreclosure. The dilapidated building was demolished in September.
Fitzsimmons saw value in the property and cited a strong demand for condos near downtown as a driving factor behind his proposal. Washtenaw County condo sales were up 12 percent in 2012 over 2011, and Realtors report increasing demand with low inventory levels.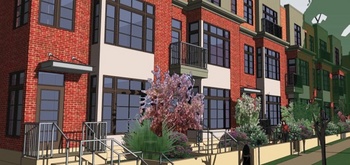 Rendering by Robert Latsko
"I believe there is demand to live downtown," Fitzsimmons said. "I believe there are a lot of people who are ready (to buy), they just can't find anything right now."
The roughly $10 million project consists of a three-story, nine-unit townhouse fronting North Main Street, a four-story, eight-unit townhouse along the mid-block alley, and a two-story, two-unit townhouse fronting North Fourth Avenue. There would be a public walkway connecting Main Street and Fourth Avenue.
"We're drawing some inspiration from Kerrytown itself," Fitzsimmons said. "We think it blends in well with height, scale, massing and character."
Because the property was zoned as a planned unit development with The Gallery project, Fitzsimmons is requesting a D2 zoning with a maximum allowable building height of 60 feet.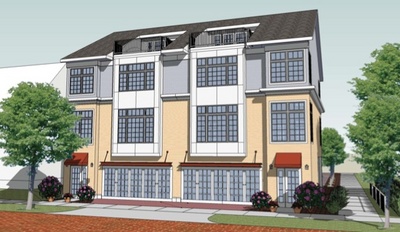 Rendering by architect Chris Allen
"The development was carefully designed to fit within its context," the Design Review Board application says.
"The proposed development…serves as a mid-block transition structure between the residential area to the north and the highly commercial downtown south of the property," it continues.
All of the condos will be marketed for sale, but Fitzsimmons said pricing hasn't been determined. The units, targeted toward young professionals and possibly empty-nesters, have two or three bedrooms and range in size and configuration. The upper levels have balconies and there is a shared courtyard between the two larger buildings.
Parking is provided in the basement of the buildings and under a second-level overhang, and each unit would include two parking spaces. The property has an easement with neighbor McKinley Inc. for 57 parking spaces, which was agreed upon when The Gallery project was proposed.
"That's really what drove the density," Fitzsimmons said. "With the site, it would have been possible to build something with more mass, but it makes no sense to us to build something that we don't think we can sell. I know we're downtown, but parking is still critical."
If approved, Fitzsimmons hopes to start construction this year and the project could be completed in summer 2014. He's working with architect Chris Allen.
The project will go before Ann Arbor's Design Review Board at its Feb. 20 meeting.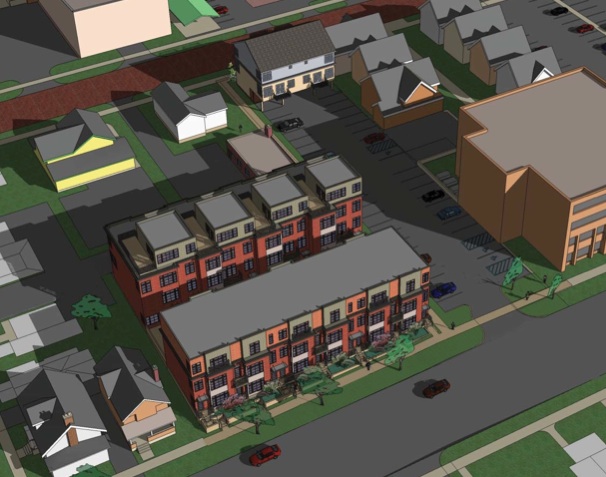 Rendering by Robert Latsko
Lizzy Alfs is a business reporter for AnnArbor.com. Reach her at 734-623-2584 or email her at lizzyalfs@annarbor.com. Follow her on Twitter at http://twitter.com/lizzyalfs.