Posted on
Thu, Mar 8, 2012 : 5:59 a.m.
King Engineering's departure creates rare redevelopment opportunity on South State Street near Briarwood Mall
By Nathan Bomey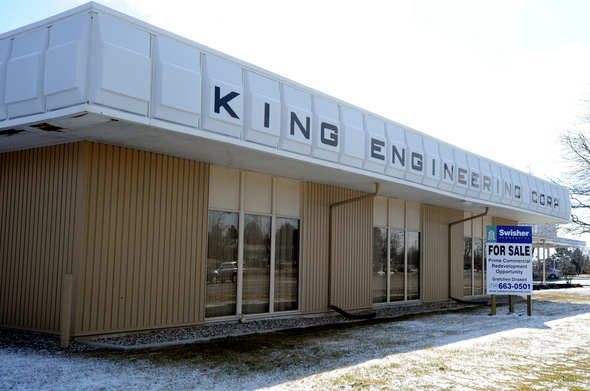 Melanie Maxwell | AnnArbor.com
(Related story: 75-year-old Ann Arbor manufacturer moved to West Virginia after acquisition)
A high-profile but aging Ann Arbor manufacturing complex previously occupied by King Engineering Corp. is empty for the first time in more than half a century, creating a major redevelopment opportunity near Briarwood Mall.
The property at 3201 South State Street — a few hundred feet north of I-94 — served as the headquarters of King Engineering's electronics and sensor manufacturing business until the company was acquired in December by Newell, West Virginia-based Marsh Bellofram Group of Companies.
Marsh Bellofram, a unit of Columbus, Ohio-based industrial holding company Desco Corp., closed King Engineering's Ann Arbor operation as part of the deal and shifted manufacturing, sales and customer service functions to its West Virginia headquarters.
The 2.48-acre property King Engineering left behind is owned by Kilaco Trust, according to Washtenaw County records.
The property includes two buildings with 23,322 square feet, but those facilities are "of no value to the redevelopment of the site," according to marketing materials distributed by Ann Arbor-based brokerage Swisher Commercial, which described the land as "one of the last remaining sites available for development in the Briarwood area." It's listed for $3.5 million.
Redevelopment of the property would fit with the city's vision for the site, which is zoned for manufacturing but designated for commercial rezoning under the city's master plan.
"The current use doesn't really fit with the rest of the district there," said Swisher Commercial broker Gretchen Driskell, who is handling the listing. "It's a little more convenient as a redevelopment opportunity. It's an ideal location."
The back side, or east side, of the land is adjacent to a separate 1.61-acre property at 725 Victors Way that includes a building currently leasing space to a Burger King franchisee.
Swisher agent Dave Hamilton, who is handling the Victors Way listing, said the property is "way bigger" than a typical fast-food restaurant needs. That property is owned by PE-BS LLC. It's listed for $2.15 million.
If a buyer acquired both properties and wanted to link them, Hamilton said, one option would be to construct a new building for the Burger King and demolish the current structure, which also has a vacant office suite.
"If you reconfigure the site, you could gain more land area," he said. "There's many ways to go here and it's just meant to be options to the buyer to have more ways to develop the property."
Among the selling points is that about 31,800 cars drive by that spot on South State Street on a daily basis, according to DataMetrix records cited by Swisher.
Driskell said prospective tenants had expressed interest in the King Engineering property before it was even listed. She said it could serve any number of uses, including possibly a restaurant.
Contact AnnArbor.com's Nathan Bomey at (734) 623-2587 or nathanbomey@annarbor.com. You can also follow him on Twitter or subscribe to AnnArbor.com's newsletters.