Posted on
Thu, Oct 27, 2011 : 4:09 p.m.
Wall Street hedge fund takes control of Ann Arbor corner: What's next?
By Paula Gardner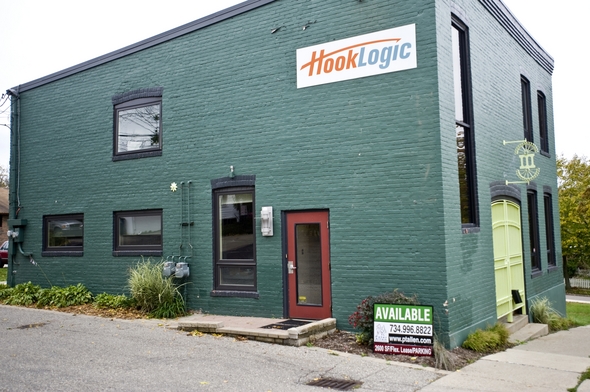 Joseph Tobianski I AnnArbor.com
A corner on
Ann Arbor
's west side that once offered hopes for new near-downtown housing now stands as an example of real estate caught in the national banking upheaval.
The property is called Kingsley Lane. The developers are Peter Allen and Mark Berg. The lender, as best as Allen can tell, is a Wall Street hedge fund that seems to be based on Avenue of the Americas and has an undetermined relationship with a loan servicing company that's been added to some of the property's documentation.
That's imprecise, but it's also almost all of the information Allen and Berg have been able to gather on the new holder of the $1.047 million loan representing their debt on the development at the corner of West Kingsley and North Ashley.
What that new owner does with the loan - acquired as part of an estimated $60 million hedge fund purchase of commercial loans from Flint-based Citizens Bank last spring ¬- will affect the property, its neighbors and the city's development future in the area north of downtown.
Everyone involved assumes the buyer doesn't want to hold the property and wants to profit from it.
But reaching a person who can confirm that - or even make it happen - has so far been impossible.
"The lender seems disinterested - completely," said Steve Palms, an attorney with Miller Canfield who is working on Kingsley Lane's behalf. "Which seems strange."
Allen and Berg say they want to hold onto the property. They hope to develop it when the economy turns. And they've taken steps - like hiring Palms and a banking insider - to help them navigate the way. They're also ready to pay for it and have tried to communicate offers.
But so far, all they've got is a public foreclosure notice for a sheriff's sale on Nov. 3 and a series of phone messages left with the loan servicers.
That even makes it unusual, Palms said.
"My experience is on the lender side more often (than the borrower's)," he said. "You don't often see situations where there isn't communication between the two."
Allen and Berg started Kingsley Lane in 2003 when they envisioned a condominium development on the corner, where a two-story historic building - now home to HookLogic - sits at the edge of the sidewalk.
When it began, Kingsley Lane was part of a wave of downtown development concepts. It was marketed as a small-space option suitable for young professionals instead of luxury condos, and it further broke the pattern by not offering parking. Instead, buyers could get a bicycle.
The best thing he did, Allen says now, is stop construction in 2007 right after Pfizer announced it was leaving Ann Arbor. At the time, Allen said, 18 of the 46 condos were presold.
"Then Pfizer pulled out of Ann Arbor," Allen said. "That was the beginning and end of Kingsley Lane."
Allen and Berg held onto the property and the original mortgage written by the now-defunct Republic Bank in 2004 and amended in 2006.
While they were waiting through the housing downturn and recession, the property - sold in 2004 for $850,000 - lost value, they said. They paid on the note, even as Citizens Bank took over the loans of Republic, and they made plans to shift the development into rental apartments as the note neared the end of its term this year.
"Condos are not an asset that makes sense in the marketplace," Allen said. "Apartments can."
Kingsley Lane as condos "is obsolete in today's marketplace," Allen said.
But mid-year, as Citizens seeks to shore up its ailing balance sheet, it sold the Kingsley Lane note as part of CB Trust 2011-1, according to documents signed by Mark Hunt, a senior vice president at Citizens. The loan's term was nearing its end, Allen said, and the bank would not refinance it.
Now, Allen said, the hedge fund is calling due to the entire amount.
Citizens would not comment for this story. And the new note-holder - which Allen said bought at least $50 million of office and medical buildings as part of that package - remains silent.
The new address of record for the note goes to Fairport, NY. Calls to a business with a phone number registered to the same address offer a menu of options for speaking to representatives of many businesses. A man who answered the phone there last week tried to direct a call on this note to someone who could answer questions, but ended up saying there was nothing he could do.
Allen and Berg said their attempts to reach someone in charge have been similar. They've sent formal written offers. Their banker is telling him he may have found a person who can deal with them.
In the meantime, they believe the note was sold at a wholesale price of about 30-40 percent of its value. They believe they should be able to acquire it for that plus 20 percent.
That original mortgage represents money spent by the developers on entitlements and marketing, Allen said. It doesn't count the $500,000 spent out of pocket, he adds.
And now that a bank got the debt off of its books, he thinks he and Berg should be able to move forward by writing off the debt, too. A month after reassigning the loan to the hedge fund, Citizens reported a return to profitability - as it cut its net loss from continuing operations to $44.5 million, compared with a net loss of $120.5 million for the same period a year earlier.
"If we can get the building back for $600,000 to $700,000 and build the apartments," Allen said, "we will be ahead by the difference of that and the mortgage."
They're not alone in having difficulties with re-mortgaging commercial property that's lost value. And they're not the first developers to learn that their lenders reassigned their debt to discount buyers.
It's a national problem. A report from Deloitte released in late August estimates that there are $1.7 trillion in commercial loans coming due over the next four years, with many of them "under water" and not eligible for refinancing.
Allen said that's the case with the Kingsley Lane property, which has an estimated market value of $894,400, based on city assessments. But that's for the land and existing building - which is losing its tenant to a move, Allen said - and not the development plans.
The apartments, as they'd be proposed, are not financeable today.
But Allen and Berg said they are prepared to keep making cash offers to the hedge fund, and they'll go to the Nov. 3 sheriff's sale at the Washtenaw County Courthouse. The lender's servicing agent will be the only bidder, they predicted.
The lender, Palms said, most likely wants to cash out of the investment at a profit.
"Ultimately, I don't think that they will redevelop it themselves," Palms said. "I also don't think they want an asset on their books that they do nothing with. "
But until the hedge fund makes another move, no one in Ann Arbor will know for sure.
Allen and Berg still believe they are likely well-positioned to keep the property. They're holding onto their vision for it, and say they're hoping to start true negotations if the sheriff's sale occurs and they enter a redemption period.
"We can't build on this site today," Allen said. "We can in a year."
Paula Gardner is news editor of AnnArbor.com. She can be contacted by email or 734-623-2586. Follow her on Twitter.