Posted on
Wed, Aug 31, 2011 : 5:57 a.m.
La Marsa Mediterranean Cuisine opens in heart of downtown Ann Arbor
By Janet Miller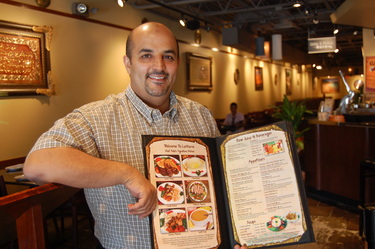 Janet Miller | For AnnArbor.com
La Marsa Mediterranean Cuisine
has opened its doors to a market crowded with Middle Eastern restaurants nearly eight months after it announced it would locate on one of Ann Arbor's busiest blocks.
Named after a seaport in Tunisia, La Marsa debuted Aug. 10 and replaces Cosi restaurant, the soup and sandwich chain that occupied the space at 301 S. State at Liberty for nine years before it closed its doors at the end of 2010. La Marsa joins close to 20 Middle Eastern restaurants in Washtenaw County.
But the competition doesn't worry general manager Aziz Muflahi. While it's all under the Middle Eastern umbrella, there are many differences, he said.
"Just the way you fix tabbouleh, for instance, is different in Iraq, Lebanon, Syria and Jordan," Muflahi said. "Some have the parsley fine while others include the stems. Some use more cracked wheat, others less. Some are crunchy, some soft. My hope is that there's enough business to go around for everybody."
The Farmington Hills-based La Marsa chain first opened its doors shortly before the La Shish chain folded in 2008. But the La Shish influence continues to shape the scene. The Dearborn-based La Shish introduced metropolitan Detroit to Middle Eastern cuisine, with a former location in Ann Arbor at Washtenaw Avenue and Carpenter Road.
But owner Talal Chahine was charged with multiple counts of tax evasion and citizenship fraud, fleeing the country in 2005. His restaurant chain collapsed, but a number of his employees have set out on their own, including the forces behind La Marsa.
Owner Fadel Gannouni, a native of Tunisia, was a server for La Shish and partners Adel Ahmed and Mohamed Al Najjar, both originally from Egypt, worked as a cook and assistant manager, respectively. Muflahi also cut his teeth at La Shish, working as a manager for a decade.
"We've taken what we know and continued it," Muflahi said. They are not alone: It was former La Shish employees who established Sheesh Mediterranean Cuisine at 207 N. Main and Palm Palace, which took over the La Shish space on Carpenter Road.
Following the La Shish blueprint, La Marsa has its eye at growing more locations, Muflahi said. After its first restaurant opened in Farmington Hills, it has expanded, making Ann Arbor its sixth location.
Gannouni had his eye on the Ann Arbor market for more than a year and a half before opening on State Street, Muflahi said, and even considered the Main Street location Sheesh now occupies. But they wanted something higher visibility, Muflahi said.
"He wanted to be in the heart," he said.
The Ann Arbor restaurant has 3,400 square feet and about 12 employees.
Workers installed a new kitchen along with a granite countertop and new front-of-the-house shelves. Granite-topped tables replaced the old wooden tables and new booths were installed. The basement area had to be brought up to fire code. The capacity remains at about 80, Muflahi said.
He expects the Ann Arbor location to be strong with carryout business. While other La Marsa locations split dine-in and carry-out about 70 percent-30 percent, Muflahi said he expects the Ann Arbor restaurant to split it about evenly.
When Cosi closed and the space was back on the market, the La Marsa partners didn't hesitate, Muflahi said. They had hoped to open in early May, but there were issues getting parts for the custom-made kitchen hood.
Despite their August opening, they still didn't miss art fairs, Muflahi said. With temporary permits, they were able to open for the four days of the art fairs, serving a limited menu and introducing themselves to a large audience, he said.