Posted on
Sat, Jul 14, 2012 : 5:57 a.m.
La Pita Fresh on Ann Arbor's East Liberty Street will remain open under new ownership
By Lizzy Alfs
Plans to close La Pita Fresh on East Liberty Street in downtown Ann Arbor came to a halt this spring when the restaurant's ownership changed hands.
The Middle Eastern restaurant, located at 529 E. Liberty, was listed for lease in March after being open less than a year. Disappointed with sales, owner Kasey Chammout planned to move on once a new tenant was found for the space.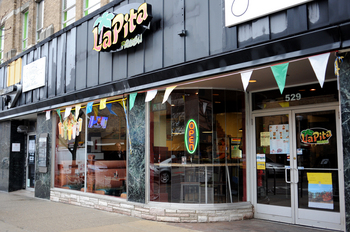 Melanie Maxwell | AnnArbor.com
But instead, southeast Michigan resident Said Namari purchased the restaurant from Chammout.
"The owner looked into it and did all the research, and he saw a good prospect," said manager Fayez Khalil. "He liked the area and he liked Ann Arbor."
Namari took ownership in April, and he plans to roll out a series of new menu items and change the restaurant's name from La Pita Fresh to Hommos Express.
Khalil said the menu will focus on "authentic Middle Eastern food" rather than fast food, but prices will still be "affordable for students."
"It's homemade, real authentic Middle Eastern food. Little by little we're changing things, and once the name changes, you'll see the full menu," he said.
Khalil said they offered positions to the existing employees at La Pita Fresh and hired a few additional people.
Chammout opened La Pita Fresh in the former Beyond Juice space last summer. In May, he told AnnArbor.com he was disappointed with Ann Arbor's response to his restaurant.
"Students spend their money on beer, pizza, chicken wings, then Chinese and sushi," he said.
He also lamented the loss of the flagship Borders bookstore, and estimated pedestrian traffic on East Liberty dropped by up to 8,000 per week since it closed in September 2011. He also cited aggressive panhandling as a concern.
But Khalil said the downtown Ann Arbor restaurant presented a good opportunity for new owner Namari —who also plans to open a Hommos Express in Southfield.
"Even though Borders closed, (Namari) saw a good prospect here," Khalil said. "Of course, we always look forward to having Borders — or any other vacant building — fill up, but we've held our own in the slow months."
Khalil also expressed excitement at the news that Barracuda Networks — a California-based network security firm with an office on Depot Street in Ann Arbor — plans to move hundreds of employees to Maynard Street this fall.
"It's good for the area, and I'm sure it's good for us, because it's right across the street," he said. "We'll be ready to give them good food and good service."
Lizzy Alfs is a business reporter for AnnArbor.com. Reach her at 734-623-2584 or email her at lizzyalfs@annarbor.com. Follow her on Twitter at http://twitter.com/lizzyalfs.