Posted on
Sat, Dec 17, 2011 : 11:57 a.m.
Ann Arbor stores busy as holiday shopping season moves into its final week
By Lisa Carolin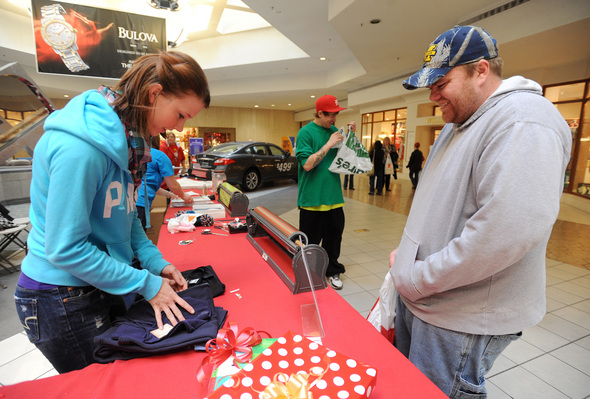 Angela Cesere | AnnArbor.com
This is one of the busiest shopping weekends of the year, and local businesses are enjoying the crowds.
Macy's at Briarwood Mall opened at 7 a.m. this morning, and Sharon Wilson from Whitmore Lake was there.
"It was a good time to shop," she said. "I usually buy ahead but I somehow got behind this year and still need to buy gifts for my daughter and granddaughter."
Kathy Kenfield from Dexter arrived at the mall at 9:30 a.m.
"It wasn't too bad then, and I've been able to find what I need for gifts," said Kenfield. "I'm really hoping to avoid any last-minute shopping next weekend."
Added Jill Edwards from Ann Arbor: "I hope this weekend will be it for all the gifts I need to get this year. Every minute that goes by, I'm seeing more and more people here (at Briarwood)."
Because Christmas falls on a Sunday, retailers hope to capitalize on the additional Saturday — Christmas eve day — for shopping.
"People look at it as having next Friday and Saturday to shop," said Mary Campbell, owner of Everyday Wines in Kerrytown. "This will be a busy weekend, but I think there will be another surge."
Shoppers have been steadily coming to Target on West Waters Road in Ann Arbor. Store team leaders say they have been busy since Thanksgiving and expect to stay busy, acknowledging that this is their busiest weekend. Electronics, toys and housewares are the most popular items.
Frank Guglielmi, spokesman for Meijer, agrees that both this weekend and next Friday and Saturday should see a lot of traffic and purchasing.
"The season has been brisk since Black Friday and customers are really taking advantage of our mPerks program (digital coupons) and our Santa Bucks holiday customer coupons," said Guglielmi.
He added that the Scio Township and Carpenter Road Meijer stores actually are busier this time of year than the Ann Arbor-Saline Road store, which does a lot of business with University of Michigan students who are on break. "We have new items in the store this year, including iPads, Boze speakers, and Dr. Dre's Monster Beats headphones that are all selling very well."
This December has five Saturdays, which is also a bonus for retailers. According to the National Retail Federation, which just revised its holiday forecast upward, holiday sales are expected to rise 3.8 percent this year to a record $469.1 billion.
National Retail Federation Chief Economist Jack Kleinhenz says consumer spending this holiday season has surpassed expectations, though many shoppers are sticking to their budgets and buying only what they need.
"Despite modest job and income growth, consumers have continuously proven they have the capacity to spend, and we are encouraged by this and the recent sales growth we have seen so far this year," Kleinhenz said.
William Roberts from Onsted expects to until the last minute. He was at the Humane Society of Huron Valley's free gift-wrapping booth outside Macy's at Briarwood today.
"I'm shopping for my son today," he said. "This is early for me."
Dylan Bloomfield, from Hudson, was also taking advantage of free gift wrapping.
"I'm shopping for my girlfriend today," he said. Bloomfield also plans to shop right up to the last moment, but for a practical reason: "I ran out of money today and still have a lot more to shopping to do."
Lisa Carolin is a freelance journalist for AnnArbor.com. Reach the news desk at news@annarbor.com.