Posted on
Tue, Dec 13, 2011 : 1:18 p.m.
Leone's Bistro on Washtenaw in Ypsilanti Township closes after 15 months
By Lizzy Alfs
Ralph Leone, the owner of Leone's Bistro on Washtenaw Avenue, closed his Ypsilanti Township restaurant this week after struggling to turn a profit, real estate agents confirmed today.
The Italian-themed bistro, which opened in September 2010 in the former Cottage Inn Cafe space, stopped serving lunches a few months ago and officially closed its doors this week.
A listing for the building also went up with Jim Chaconas and Brendan Cavender of Colliers International, who are marketing the 3,941-square-foot space as a "turn-key restaurant." It's listed for an annual $12 per square foot.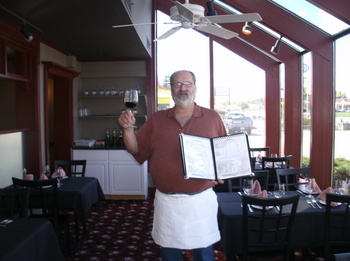 Paula Gardner | AnnArbor.com
Leone could not be reached for comment and the restaurant was empty when AnnArbor.com visited on Monday.
The problem with Leone's, Cavender said, was the prices were too high for the market.
"It's unfortunate," he said. "He had a great concept. But he had a higher end product and the Washtenaw corridor east of US-23 is more fast food and cheaper priced menus. He was a little high for the market out there."
When Leone's Bistro opened last year, the plan was to offer over 300 wines and 30 craft beers. Some menu items were on the higher end, with meat entrees ranging from $17 to $34. Pastas were in the $9 to $15 range.
Leone created the sauces, lobster salad dressing and many of the soups. The pasta was homemade and many of the menu items were family recipes, Leone told AnnArbor.com in 2010. He opened the restaurant with his son, Greg.
Because the space was vacant for years after the Cottage Inn Cafe closed, Cavender said Leone invested in various renovations to convert the building last year, which makes the space ready for a new operator.
"The building was completely updated," he said. "Everything is brand new. There's a granite bar, all new carpet and a new roof. It has all the kitchen equipment in there and everything down to forks and knives."
He said the ideal operator would be a family restaurant or a small sports bar with "fast and casual" food.
"You need to have a good price point and good products," he said. "Something fun where families can bring kids."
Lizzy Alfs is a business reporter for AnnArbor.com. Reach her at 734-623-2584 or email her at lizzyalfs@annarbor.com. Follow her on Twitter at http://twitter.com/lizzyalfs.