Posted on
Fri, Jun 15, 2012 : 3:25 p.m.
Liebherr Aerospace Saline shows off large expansion to headquarters
By Ben Freed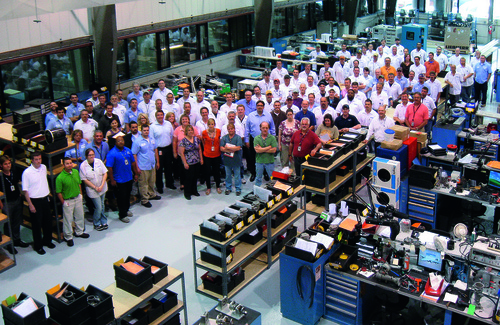 Courtesy Liebherr Aerospace Saline
Liebherr Aerospace Saline, Inc.
held a grand opening Wednesday morning for a 33,000-square-foot expansion to its headquarters in
Saline
. The company, one of Saline's largest private employers, is Liebherr Aerospace's North American base for component repair, technical support and spare parts distribution.
The event included a ribbon-cutting ceremony, a recognition of some of the longest-serving employees at the location, and speeches by local dignitaries.
"This is another fine example of the re-growth of manufacturing in Michigan," congressman Tim Walberg, a Republican representing Michigan's seventh district, said. "Manufacturing is what Michigan does. ... In your success, we all succeed."
According to Kevin Michaels, a vice president of ICF International's aviation business and a self-described aerospace geek, the aerospace sector is a $500 billion a year industry, with 40 percent of that business happening here in the United States.
"Not many people know this, but aerospace is America's No. 1 export industry," Michaels said. "It has the biggest positive trade balance of any sector in American business."
Ben Freed | AnnArbor.com
The new space will be used to house Liebherr's expanding landing gear operations.
"The landing gear increase really drove the expansion," Jochen Faber, who came to Saline as the company's first Michigan-based aerospace employee, said. "They're huge, and they all come in really big boxes. We were not quite out of space yet, but we getting more business, and 'if you build it, they will come.' "
Liebherr Aerospace Saline also owns a 54-acre plot behind the current complex that it hopes to build into a campus for other Liebherr companies in Saline.
Liebherr is a family-owned group of more than 130 companies that manufactures a diverse group of products including construction equipment, mining equipment, domestic appliances and maritime cranes.
The recently completed expansion was originally planned for 2008, but was delayed because of the global economic crisis.
"These have been tough times for airlines especially because of rising fuel prices," Kevin Michaels said. "Fuel costs have risen from 10 percent to 40 percent of expenditures for airlines. Even a one-cent rise in fuel prices costs the industry $500 million. Delta even just bought a refinery to try to offset costs."
These days, however, business is good for Liebherr in Saline. Alex Vlielander, president of Liebherr Aerospace Saline, Inc., said that the company generated revenues topping $70 million in 2011. There are currently 130 employees at the Saline location, with two other offices of about 10 employees each in Seattle and Witchita, Kan.
Jim Laurenti, a service engagement manager and customer support specialist for Boeing, was in attendance at the event and said that his company recently began to work with Liebherr on the air management systems for the new Boeing 747s.
"These days, most of the parts are made by other companies, and Boeing does more assembling than anything else," he said. "We're very happy so far with the quality of the systems we've received from Liebherr."
Liebherr originally chose to locate its aerospace customer support and services center in Saline in 1989 because of its proximity to major airline hubs, and the fact that Liebherr Transportation was already operating in the area. The relationship has grown, as evidenced in the remarks made by Saline Mayor Gretchen Driskell, who started her speech in German, and by a performance by the Saline Fiddlers at the ribbon cutting ceremony. The high-school members of the organization thanked Liebherr repeatedly for their assistance in helping the group travel to Germany and Whales.
Liebherr Aerospace and Transportation SAS is an international holding company that oversees the manufacturing and upkeep of flight control systems, air management systems, and landing gear systems for a wide range of commercial, business, and military aircraft. The company supplies systems to major airplane manufactures Embraer, Bombardier, Airbus, and Boeing. They also hold contracts with a variety of smaller business jet companies as well as many helicopter manufacturers.
Ben Freed covers business for AnnArbor.com. Reach him at 734-623-2528 or email him at benfreed@annarbor.com. Follow him on twitter @BFreedinA2