Posted on
Sun, Feb 21, 2010 : 5:40 a.m.
Life sciences research to return to ex-Pfizer site, University of Michigan says
By Nathan Bomey
Pfizer's gone, but the 2-million-square-foot facility the pharmaceutical giant left behind in Ann Arbor will return to its life sciences roots.
The University of Michigan, which acquired the site in 2009 for $108 million, on Thursday identified the first core technology areas it will emphasize at the site, where it will add 2,000 to 3,000 jobs over 10 years. Among them: nanotechnology, molecular imaging and drug delivery -- three areas that fit comfortably under the broader umbrella of life sciences.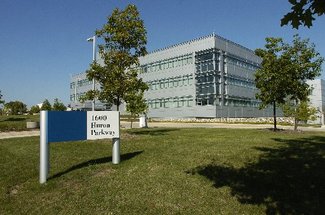 One of the buildings at 1600 Huron Parkway, the former Pfizer campus, that the University of Michigan will call the North Campus Research Complex. Lon Horwedel | Ann Arbor.com
The university is also expected to use the ex-Pfizer site, now called North Campus Research Complex, for other hot research areas such as alternative energy.
But Thursday's announcement served as a reminder that life sciences and health care technology are set to be the university's core focus at the site.
"Clearly what the university tried to do is identify where they have some unique strengths," said Stephen Rapundalo, executive director of Ann Arbor-based MichBio, the state's life sciences association. "It takes advantage of the stuff they already have going in the biomedical engineering ranks."
U-M Health System CEO and Executive Vice President for Medical Affairs Ora Pescovitz told colleagues in an e-mail and online that the university would also start soliciting proposals from its faculty to launch multidisciplinary research "clusters."
The clustered research operations are designed to take advantage of the open environment that's common in the Pfizer laboratories, placing researchers from different sectors side by side in hopes of achieving technology breakthroughs.
For example, alternative energy engineers could work alongside biotech researchers to research biofuels.

"These clusters will join our technology anchors as part of our revolutionary research model," Pescovitz said.
Rapundalo, a former Pfizer employee who served on a university committee last year to provide strategic guidance for the site, said the multidisciplinary approach is important.
"That was how some of that Pfizer site was formally structured. We had cross-disciplinary groups working side-by-side with each other in an open lab format where there could be cross-fertilization of ideas," Rapundalo said. "I think the university has sort of recognized that that's more of a novel model than traditional academic labs and one that has certainly, at least in the private sector, lent itself to very good collaboration and partnerships."
Pescovitz was not available for comment by press time. But she told her colleagues that "health care services research" would also play a role at the site.
"We will develop the nation's premier institute for research in health care services, which is the study of effective ways organize, manage, finance and deliver high quality care," she said.
It was not immediately clear whether that would involve U-M's Michigan Institute for Clinical & Health Care Research, which is among the departments already moving to the ex-Pfizer site.
The university also did not address whether the health care services focus would involve its William Davidson Institute, where former Pfizer site leader David Canter is researching the business of health care.
But Canter told AnnArbor.com in an e-mail that he is "not involved" with the initiative.
Contact AnnArbor.com's Nathan Bomey at (734) 623-2587 or nathanbomey@annarbor.com or follow him on Twitter. You can also subscribe to AnnArbor.com Business Review's weekly e-newsletter or the upcoming breaking business news e-newsletter.