Posted on
Fri, Jul 22, 2011 : 11:08 a.m.
Liquidation starts: Borders store in downtown Ann Arbor enters its final days
By Nathan Bomey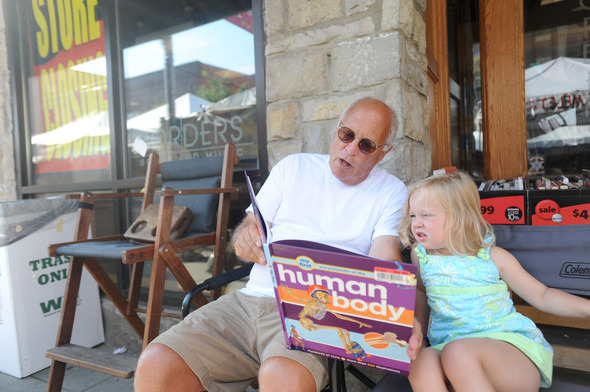 Angela J. Cesere | AnnArbor.com
Minutes after
Borders
' flagship store in downtown Ann Arbor opened for business this morning,
Michael Melet
could be found sitting outside the Liberty Street bookstore, reading to his granddaughter,
Gillian Daly
.
Gillian, 3, of Ann Arbor, swung her legs and listened — selectively — as her grandfather read an educational kids book about the human body.
Somebody, someday, will have to tell Gillian about this moment. She likely won't remember it.
She probably won't remember Borders, either.
Borders' liquidation sales started casually this morning — with little fanfare and no stampede a la Black Friday.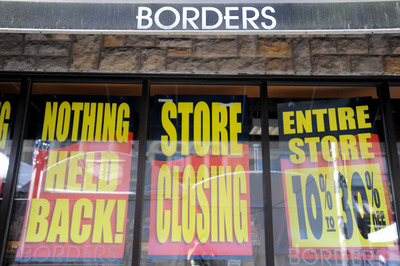 Angela J. Cesere | AnnArbor.com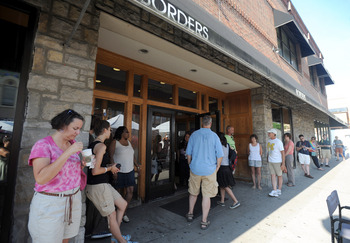 Angela J. Cesere | AnnArbor.com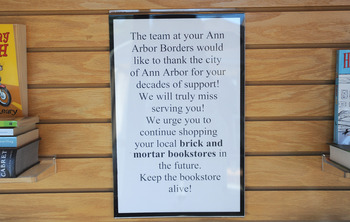 Angela J. Cesere | AnnArbor.com
Customers streamed into the flagship store with a tinge of regret, a feeling of nostalgia and a sense of frustration.
Within weeks, Borders will be gone — a victim of industry dynamics, strategic errors and, some would say, a changing culture.
"I'm a retired retailer, and I've seen all the trends in retail around the years, and I never thought I'd see the end of this trend," said Melet, of Flint, who was visiting his daughter Nancy's jewelry booth at the Ann Arbor Art Fair. "But here I am, sitting with my granddaughter."
Here Borders is, four days after the company announced its plans to liquidate and 40 years after it was founded by brothers Tom and Louis Borders as an 800-square-foot book shop on South State Street.
That original shop was located just steps away from the current flagship store, which opened in a former Jacobson's department store in the mid-1990s.
It was iconic. It fostered a relationship with Ann Arbor based on a intense focus on customer service, a wide selection of books and a keen understanding of what it meant to operate a bookstore in a college town, longtime customers said today.
"It was well stocked and people knew the books," Chelsea resident Jo Holloway said, standing outside the flagship store minutes before it opened today.
And customers responded, she said.
"People just picked up stacks of books," she said.
Shortly after the flagship store opened this morning, just a few dozen customers had entered the shop. The atmosphere was unhurried, respectful — quiet, even.
Employees had set up a display in a window facing Liberty Street as a memento to Ann Arbor — and a reminder of the culture that built Borders.
A sign in the display declared the store's gratitude for its relationship with Ann Arbor. It was positioned among a display of books with classics like "The Adventures of Huckleberry Finn," "Anne of Green Gables," "The Very Hungry Caterpillar" and "Bridge to Terabithia."
"The team at your Ann Arbor Borders would like to thank the city of Ann Arbor for your decades of support," the sign read. "We will truly miss serving you. We urge you to continue shopping your local brick-and-mortar bookstores in the future. Keep the bookstore alive!"
The 399 remaining Borders stores will be closed — although Alabama-based Books-A-Million wants to buy up to 35 leases to convert into Books-A-Million stores. Some 10,700 employees will lose their jobs, including 400 at the company's corporate headquarters on Phoenix Drive and another 50 or so at the two Washtenaw County stores.
The liquidation sales will be finished by September at the latest — although they're likely to be over much faster than that.
A team of liquidators led by Hilco Merchant Resources LLC and Gordon Brothers Retail Partners LLC are leading the sales. They're coordinating with existing Borders employees to run the sales.
Shortly after 9 a.m., going-out-of-business signs were still being placed in windows at the downtown store. "Everything Must Go," one sign said; "Nothing Held Back!" another blared.
For now, merchandise is 10 percent to 30 percent off at the downtown store, although Borders said that some products would be discounted up to 40 percent.
A day after a New York bankruptcy judge officially approved the liquidation sales, the downtown store showed signs of a rush to start the liquidation conversion. Merchandise that had been read the previous day was left on window sills, for example.
One liquidation sign was crooked, a suction cup half stuck to the window.
It didn't seem to bother customers.
"I just wanted to come to pay my full respects," said Mark Carl Paul, a Troy resident who came to the store this morning on his day off.
Paul said he's sad that Borders is fading away, in part because of what it reflects: a shift toward electronic books.
"I just don't do that," he said. "I read four, five newspapers every day. I just want that feel of paper in my hands."
Several customers who once loved Borders — who still like visiting — said they lost their emotional connection with the store years ago. Or, at least, their nostalgia for Borders is tied to a shop that once was.
Employees, who aren't officially allowed to talk to the media, were "just really sad," one worker said.
"I think everybody was just shocked because Borders is such a huge part of Ann Arbor," the worker said.
Rather, it was a huge part of Ann Arbor.
That's what somebody will tell Gillian.
Contact AnnArbor.com's Nathan Bomey at (734) 623-2587 or nathanbomey@annarbor.com. You can also follow him on Twitter or subscribe to AnnArbor.com's newsletters.