Posted on
Thu, Jul 14, 2011 : 12:53 p.m.
Liquidators approved as leading bidder for Borders
By Nathan Bomey
Liquidators are stepping in as the leading bidder for Ann Arbor-based Borders Group Inc., which is set to be auctioned off in bankruptcy proceedings on Tuesday.
A team of liquidators, led by Hilco Merchant Resources LLC and Gordon Brothers Retail Partners LLC, received preliminary approval to become the "stalking-horse bidder" for Borders in a court hearing today in New York, Borders confirmed.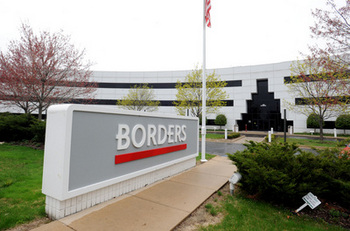 The development comes after Phoenix-based private equity firm
Najafi Companies
on Wednesday
pulled out of its tentative deal
to serve as the leading bidder. Najafi had bid to acquire Borders by paying $215.1 million in cash and assuming about $220 million of liabilities.
But that deal effectively collapsed Wednesday after objections by landlords and publishers, who told the court that Najafi's bid would not preclude the firm's Direct Brands unit from liquidating Borders' physical assets and keeping intellectual property for itself after the deal was sealed.
The publishers, speaking as a committee of unsecured creditors, told the court that if Borders is to be liquidated, they want the process to be handled by the liquidators Borders has already selected — not Najafi.
Other bidders for Borders could still emerge, including possibly Los Angeles-based private equity firm Gores Group, which had considered acquiring Borders, according to previous reports by the Wall Street Journal.
But if no one else comes forward, the liquidators may acquire the company and launch going-out-of-business sales as soon as July 22, according to court filings.
"We are focused on preparing for next week's auction on July 19," Borders said in a statement this afternoon. "We are hopeful that Najafi Companies and other potential bidders who are interested in operating Borders as a going concern will choose to participate in the auction. In the meantime, as the process moves forward, we continue to conduct business as usual. Our stores remain open and serving customers and Borders.com is fulfilling orders."
A complete liquidation of Borders would eliminate 11,000 jobs, including nearly 400 at the company's corporate headquarters in Ann Arbor, and 399 stores would close.
Borders, in a court filing, recently estimated that a liquidation of all of the chain's assets would yield between $252 million and $284 million.
Borders filed for Chapter 11 bankruptcy in February with hopes of reorganizing and reemerging as a profitable company. But that plan fell apart as losses continued despite cutting more than 230 money-losing stores.
Contact AnnArbor.com's Nathan Bomey at (734) 623-2587 or nathanbomey@annarbor.com. You can also follow him on Twitter or subscribe to AnnArbor.com's newsletters.