Posted on
Thu, Mar 4, 2010 : 6 a.m.
Top 16: Washtenaw County's top-selling bars and restaurants show growth
By Paula Gardner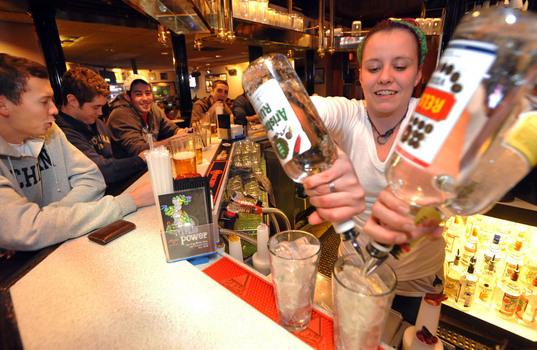 Mark Bialek | For Ann Arbor.com
Liquor sales are a growing industry in Washtenaw County and across the state.
"The economy is bad, but our liquor sales never went down (in 2009)," said Andrea Miller, spokesperson for the Michigan Liquor Control Commission.
That's true in Washtenaw County, which reported a 1 percent gain in its $31.59 million annual wholesale liquor purchases, which the state controls.
Across Michigan, retail stores are getting more of that business, Miller said.
Top sellers

Here are Washtenaw County's bars and restaurants that bought more than $100,000 in liquor from the state in 2009 and the percentage change from 2008 totals. All are in Ann Arbor except where noted.

Good Time Charley's $217,107 (6.6%)

Knight's Bar & Restaurant $197,110 (6.2%)

Necto $196,414 (2.8%)

Melange Bistro and Wine Bar $143,812 (7.2%)

Conor O'Neills $137,298 (3%)

Club Divine (Ypsilanti) $134,079 (-19.2%)

Rick's American Café $130,878 (17.3%)

Scorekeepers $130,533 (18%)

Weber's $128,780 (-9.6%)

Black Pearl $115,922 (58%)

Brown Jug $112,855 (-3.8%)

Stiver's (Chelsea) $111,132 (-9.3%)

Banfield Bar & Grill (Packard Road location) $108,659 (-2.9%)

Blue Leprechaun $107,091 (46%)

Bar Louie $106,115 (9.5%)

Sidetrack (Ypsilanti) $104,735 (-9.5%)

Source: Michigan Liquor Control Commission
Yet while more state residents appear to be making their own cocktails at home, many of the Ann Arbor area's top bars and restaurants - based on wholesale purchases - found a recipe for success and report increased on-premise sales.
In Washtenaw County, 16 of the nearly 100 establishments that sell single-serving drinks on-premises bought more than $100,000 in liquor from the state in 2009.
And 10 of those showed an increase in 2008.
The numbers - available from the state's Liquor Control Commission - don't chart how many drinks are sold, their retail cost to the consumer or profit margins for the state or the retailer. And they just represent liquor, not beer or wine.
But the wholesale purchase figures are an indicator of sales, since they show the investment by the county's bars and restaurants into product that they'll sell by the pour.
Of the local list of top bars, about half have been familiar names in Ann Arbor for two decades or more.
Six cater to the University of Michigan campus clientele.
Three are on the same block of downtown Ann Arbor's Main Street.
And while many on the list have related businesses in other areas, all but one - Bar Louie - still have independent ownership connections, most in Ann Arbor. A couple -Rick's and Scorekeepers - are based in East Lansing.
At Knight's Bar & Restaurant on the west side of Ann Arbor, the customer base tends to be the "townie" who knows the restaurant specializes in strong drinks.
"From day one, we've poured an honest drink," said owner Don Knight. "We don't do a measured pour - it's all a free(handed) pour."
Knight's also doesn't experiment with flavors.
"That doesn't really sell here," Knight said.
The growth in Knight's liquor sales - also reflected in higher food sales in 2009 - got a boost from the restaurant stocking more single-malt scotches.
"Also higher-end bourbon," said Knight. "That's a growing market."
By summer, Knight's will offer its own bourbon blend, which it's working on with a Kentucky distributor.
While that will expand options in the restaurant, Knight says his family business won't be changing its approach to selling drinks. "Ever."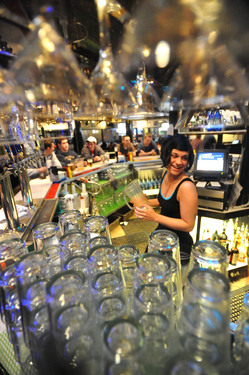 Mark Bialek | For AnnArbor.com
By contrast, Good Time Charley's is always looking for new approaches, said manager Ben Hammond.
The top bar in the county based on wholesale buys grew that measure by 6.6 percent over 2008. And it did that by paying constant attention to its drink menu, Hammond said.
"We keep adding to (it)," he said.
The bar has been a campus mainstay for about 30 years, and Hammond said its staff keeps up "with what the student population is after."
That includes its "ultimate shooter list," a full menu page of shots - some with names that parents may not want to say out loud. A tamer version: The "Oil Slick," featuring Jagermeister floated on sambuca.
Other popular innovations: The bomb - another booze mix that come in 17 flavors - and various drink concoctions like the Purple Rain and Long Island Ice Tea.
Beer and wine remain strong sellers at Good Time Charley's, Hammond said.
That's also true at Conor O'Neills Irish Pub in downtown Ann Arbor, which also made the list of top bars.
Its liquor sales grew due in part due to increased promotions, said owner Tom Murray. Staff anticipated a harder year due to the changes in the economy, "so we had to turn up the marketing a little bit and go out and get business, too."
As a result, adding entertainment options like live music and trivia nights keep the bar busier throughout the week, Murray said.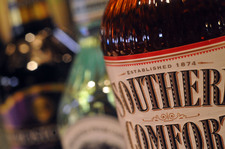 Mark Bialek | For AnnArbor.com
Drinking trends at Conor O'Neills also are changing, he added. Guinness Stout beer was a top seller when it opened, but now patrons are asking for Irish whiskey and high-end vodka.
Murray hopes to keep the momentum going by starting a customer appreciation program this year.
He also said that the growth among the downtown bars on the 2009 liquor sales list shows that Ann Arbor's entertainment district remains strong.
Terry Martin, manager of Melange, agrees. He adds that success in one helps generate more customers across the board.
"There's not really competition," Martin said. "We're all getting people to come downtown."
Growth at Melange - like at Good Time Charley's - comes from working the drink menu list.
Slow sellers - like concoctions called the Blue Moon and Parisian - are removed. And Martin works with his top bartenders to replace them on the 50-variety martini list. Martin also is watching the economy for business cues.
"We haven't raised our liquor prices in two years," he said. "We understand the plight of not just Michigan, but the country."
Paula Gardner is business news director at AnnArbor.com. Contact her at 734-623-2586 or PaulaGardner@annarbor.com.