Posted on
Thu, Dec 1, 2011 : 3:55 p.m.
Liquor sales in Michigan rise with help of Sunday morning permits
By Lizzy Alfs
The Michigan Liquor Control Commission reported a profit in liquor sales of $164.25 million in fiscal 2011, up $7.1 million from 2010.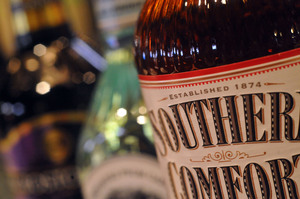 File photo | AnnArbor.com
Some of the increase in liquor sales in 2011 can be attributed to a year-old Michigan law that allows businesses to sell liquor on Sunday mornings.
Former Gov. Jennifer Granholm signed the legislation in late 2010, removing a statewide ban that prohibited alcohol sales before noon on Sundays.
Municipalities could "opt out" of the new law by notifying the MLCC of its intention and specifying what time it would permit sales.
In the past year, nearly 6,000 businesses statewide paid an extra $160 annual fee to start alcohol sales at 7 a.m. on Sundays, according to the MLCC.
The change has accounted for $950,000 in revenue.
There are 15,893 active liquor licenses statewide. Washtenaw County has 178 establishments with a permit to serve alcohol on Sunday mornings. There are 73 active Sunday morning permits in the city of Ann Arbor. Andy Deloney, chairman of the MLCC, said the state can expect at least "modest growth" in liquor sales into fiscal year 2012.
"The future looks strong as we continue to approve new products weekly," Deloney said in a statement.
The liquor commission's profits are transferred to the state's general fund.
Lizzy Alfs is a business reporter for AnnArbor.com. Reach her at 734-623-2584 or email her at lizzyalfs@annarbor.com. Follow her on Twitter at http://twitter.com/lizzyalfs.