Posted on
Thu, Aug 1, 2013 : 5:58 a.m.
Ann Arbor area manufacturer Control Gaging moving forward with plans for new headquarters
By Ben Freed
Control Gaging is preparing to move its headquarters a few blocks down the road and into the Avis Farms business park.
The company, which makes "in-process gaging systems" for manufactures, plans to build a 24,500 square-foot facility that will primarily function a manufacturing center, but will also include warehouse and office space.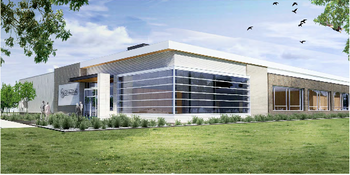 Rendering by Hobbs+Black Architechts
The
Pittsfield Township Planning Commission
will consider the final site plan for the new headquarters at its meeting Thursday. The township has already
granted the company a 12-year tax abatement
on the approximately $3.4 million that will be invested in the new facility.
Control Gaging president David Hayes previously told AnnArbor.com that the new facility will allow the company to increase production by more than 25 percent.
"Building our own building will give us more manufacturing space," Hayes said. "We're crammed at capacity right now."
According to the company's website, Control Gaging is a "vertically integrated company," meaning that it designs, manufactures and provides in-house support for its products.
With the move to its new and bigger home, Hayes said that the company plans to increase its staff from 32 to 34 employees.
In his pitch to the Pittsfield Township Board of Trustees, Hays said that the business has experienced 300 percent growth since the market bottomed out in 2009, according to a story in the Saline Reporter. The growth of the manufacturing sector in Michigan and across the country has helped Control Gaging bounce back.
According to township property documents, Control Gaging purchased two plots of land from Avis Centre Five LLC that were combined into a new 5.8 acre address on June 17. The company purchased the two pieces of land in December 2012 for a total of $282,268.
The building housing the company's current headquarters at 5200 Venture Boulevard is owned by Pondview Properties, LLC.
The company was founded in Saline in 1972 and moved to Venture Boulevard in 1986.
Control Gaging is hoping to move from its current location (A) to a new home it plans to build on the vacant lot across South State Road (B).
View Larger Map
Ben Freed covers business for AnnArbor.com. You can sign up here to receive Business Review updates every week. Get in touch with Ben at 734-623-2528 or email him at benfreed@annarbor.com. Follow him on twitter @BFreedinA2