Posted on
Thu, Dec 8, 2011 : 5:59 a.m.
Long-stalled west Ann Arbor condo project to get new life as apartments
By Paula Gardner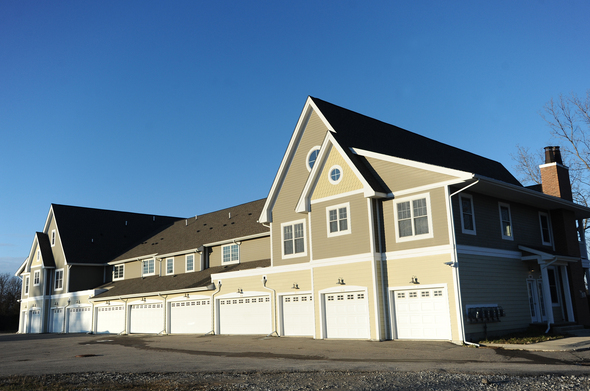 Melanie Maxwell | AnnArbor.com
A west side condominium building - started in 2005 but never finished - soon could finally be operating as apartments under a new owner following a mortgage sale and pending foreclosure.
A single building of West Towne Condominiums has stood for several years at the corner of West Liberty and South Maple, part of an eight-building, 87-unit project led by developer Michael Concannon.
The first building - containing 11 units - was built in 2007 and its condos were marketed for sale at the same time.
However, funding concerns and the slowing real estate market stalled the project. More recently, lender Fifth Third Bank sold the loan - for an undisclosed discount - to an entity of local building company Norfolk Development Co. in August.
Now that company is foreclosing on the note, which was signed in September 2005 and has an outstanding debt of $5.386 million.
It's also making plans for the property, where Norfolk work crews have been preparing units for their first residents.
"We're just stabilizing the property," said James Franke of Norfolk. "It fell into stagnancy and it just needs to be brought back to life."
City officials are close to issuing certificates of occupancy, he added, and they'll be marketed shortly.
The project also gets a new name: Blue Heron Pond.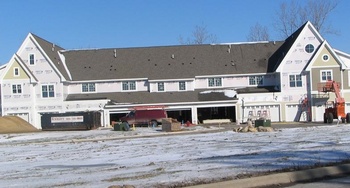 City of Ann Arbor
Norfolk has developed many residential projects in Washtenaw and Jackson counties, including single-family home and condos. Among its projects is Summerfield Glen, located just to the west on Liberty.
That project is sold out of existing units, Franke said, and Norfolk will build another building on the site this spring.
In the meantime, it continues its work in Alabama and Tennessee, and is considering its options for its most recent Ann Arbor acquisition.
"We'll get them ready for residents and rent them while we figure out what to do (with the rest of the property)," Franke said.
The rental market, he added, is strong here.
Blue Heron Pond units will rent for $900 to $1,800 per month, Franke said. According to previous marketing materials, the apartments are 931 to 1,876 square feet.