Posted on
Fri, Apr 12, 2013 : 5:58 a.m.
Longtime Zingerman's baker leaving company for new venture
By Lizzy Alfs
Longtime Zingerman's baker Shelby Kibler is ready to take his career to the next level by opening his own bakery in Grand Rapids.
Kibler, one of the leaders of Zingerman's BAKE!, plans to open Field & Fire artisan bakery in Grand Rapids' new Downtown Market this summer.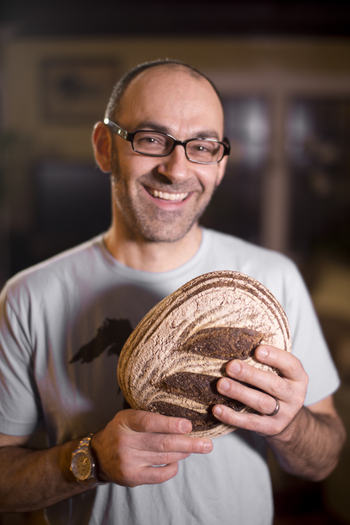 Courtesy photo
"I've never been more excited about doing anything," Kibler said. "I love to bake. Food is my world and it's an opportunity I've talked about with my wife for years, but didn't see it materializing so fast."
Kibler started as a bread baker with Zingerman's Bakehouse in 1997, eventually working his way to manager. After spending several years working in restaurants in California, he moved back to Michigan and became one of the managers, or principals, at Zingerman's BAKE! — the company's hands-on teaching bakery at 3711 Plaza Drive.
Although Kibler feels indebted to Zingerman's for helping him blossom as a baker, he said he's ready for his next challenge.
"I've been growing the BAKE! school every year and applying my passion to that part of the bakery and I find it thoroughly satisfying work," he said. "In the end, I wanted to own my own bakery."
Field & Fire will be a 1,500-square-foot artisan bakery serving mostly savory breads, croissants and wood-fired pizzas. The 138,000-square-foot Downtown Market in Grand Rapids is being developed as a destination for fresh produce, artisan food, local farms and entertainment. (Read more about the market)
"I'll be located next to all these other really cool small businesses," Kibler said.
Kibler plans to stay at Zingerman's until the end of May, and in the meantime, he's helping the company fill his position.
Zingerman's Bakehouse managing partner Amy Emberling said Kibler's job — manager/principal of BAKE! — was posted on Zingerman's career page several weeks ago and final interviews are scheduled for May.
"(Kibler) has done really wonderful things in his role," she said.
"We expect we'll have someone (fill the position) in the beginning of June. It's a really nice position," she added.
Lizzy Alfs is a business reporter for AnnArbor.com. Reach her at 734-623-2584 or email her at lizzyalfs@annarbor.com. Follow her on Twitter at http://twitter.com/lizzyalfs.