Posted on
Thu, Jun 3, 2010 : 5:59 a.m.
Longtime EMU campus-area businesses Theo's and Ted's Campus Store listed for sale in Ypsilanti
By Paula Gardner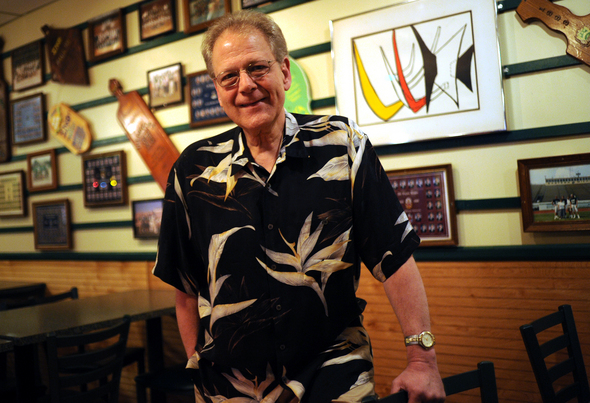 Melanie Maxwell | AnnArbor.com
Generations of Eastern Michigan University students made
Theo Doors Inc.
the longest-lasting campus-area bar in Ypsilanti.
Nearby on West Cross Street, Ted's Campus Store served those same students over the years, first as a pharmacy and more recently as a convenience store.
Now, both properties - along with seven efficiency apartments above the store - have been listed for sale by the owners, a longtime Ann Arbor family.
The properties, said listing agent Tony Caprarese, are as close as you can get to the EMU campus.
That proximity has been part of the success of both businesses, in particular the bar known by its nickname, Theo's.
"That bar has so much EMU tradition," Caprarese said. "It's the oldest … operating college area bar that remains in Ypsilanti."
The bar is located just east of Ted's Campus Store, a grouping of three separate storefronts at the corner of West Cross and Normal Street.
It was a big decision for the family to decide to sell, Caprarese said.
George Tangalakis agreed. He operated the bar since 1980 in partnership with Cerene Tangalakis, his sister, and his father has owned Ted's Campus Drugs for decades.
Ted Tangalakis retired recently after 65 years at 94, the oldest registered pharmacist in Michigan.
Now, George Tangalakis said, the sale of the campus-area properties will free him up to spend more time taking care of his parents.
Tangalakis, who works at the bar six days a week, describes owning a bar as "a younger man's business."
He's led the property through what he calls several minor metamorphoses, most recently investing in kitchen upgrades that restored it into more of a bar-grill operation than a pure nightclub.
"Three years ago this summer we replaced the furnishings, floors, ceilings, walls - we gutted the operation and restarted the kitchen after a seven-year hiatus," he said.
The bar, at 3,814 square feet, is listed for $515,190. The store, with the efficiency apartments, is listed for $460,231.
The listings of the Tangalakis property are the latest among several other landmark commercial properties in the city that are seeking or recently found new buyers. Among them: the Materials Unlimited building, the former Mellencamp's store and the former TC's Speakeasy on Michigan Avenue downtown and four adjacent storefronts in Depot Town.
At the same time, the Tangalakis properties come onto the market as city and Washtenaw County leaders are prioritizing improvements along West Cross Street. About $700,000 in streetscape improvements are planned, and a traffic study could result in two-way traffic returning to the street.
Yet the timing of a real estate sale sets some limits on new buyers, due to the shortage of financing available. Some owner-occupants are finding success with federal Small Business Administration loans, Caprarese said.
Because the properties are debt-free, seller financing may be an option, he added.
Caprarese said he's marketing the properties as two separate opportunities.
Several calls have come in on the convenience store, he said.
And the bar also is attracting interest, he said.
"The most ideal scenario would be for a younger owner-operator … to come in and take those businesses over," Tangalakis said, "so they continue to contribute to the campus area."