Posted on
Sun, Aug 19, 2012 : 5:58 a.m.
Looking for an apartment? Rental market in Ann Arbor 'extremely tight'
By Lizzy Alfs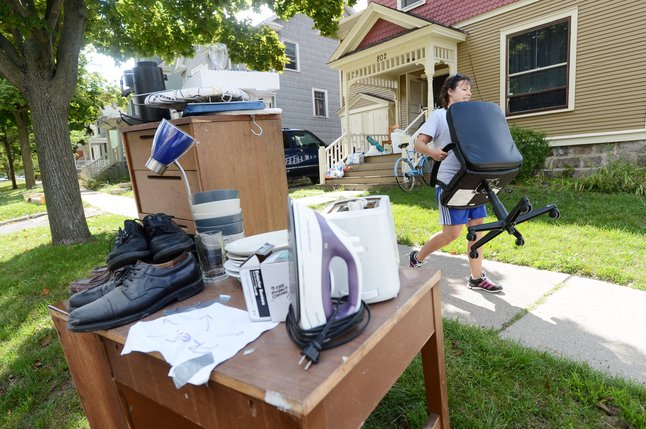 Melanie Maxwell | AnnArbor.com
When
Lauren Goldstein
found out in June that she'd be moving to Michigan for
GE's Financial Management Program
, she faced a major obstacle: finding rental housing in the
Ann Arbor
area in less than two months.
Goldstein, who's only in Michigan for six months on the rotational program, started calling apartment complexes and looking at Craigslist postings for availability and prices.
"Every place I called that had availability, they were disappearing by the second," Goldstein said. "I needed a specific timeframe, I didn't have flexibility because I was coming from Connecticut, and I couldn't come out and see something."
Goldstein was looking to move to Ann Arbor by the end of July — months after most landlords have leased their units for the following fall.
In Ann Arbor, many renters — both student and non-student — start looking for housing nearly a year in advance of move-in. Landlords often fully lease their properties by early summer for the fall turnover.
"What I gathered from my research…a lot of people sign a year in advance, especially on campus and downtown," Goldstein said. "Apartments were disappearing. I would call an apartment complex at 9 a.m. and it would by gone by noon."
After nearly 60 inquiries, Goldstein signed a lease for Westwood Apartments on West Liberty Street, east of Stadium Boulevard.
Her experience is not unusual: The rental market in Ann Arbor is extremely tight, especially this year, according to local landlords and real estate experts.
Dozens of people are posting ads on Craigslist every day seeking housing in the area. On Tuesday, 25 people posted "Housing Wanted" ads on the classifieds website.
Jason Costello, president of Cabrio Properties in Ann Arbor, said Cabrio's 200 units are 100 percent occupied for fall 2012 and have been since May.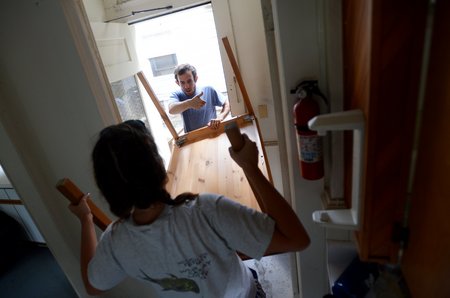 Melanie Maxwell | AnnArbor.com
"We are still receiving a number of calls every day from people wanting apartments that are coming to town," Costello said. "When we tell them we don't have anything left, people are so deflated. There's just nothing available, certainly not anywhere near campus."
Even though new student apartment complexes like Zaragon West, Landmark and City Place, are coming online and bringing nearly a thousand beds to the downtown this fall, it's not helping to alleviate the demand for rental units in other areas of the city, said Jennifer Fry, an apartment rental consultant with The Charles Reinhart Company.
She said both the student and non-student rental markets are "extremely tight" this year, more so than she's experienced in her 15 years working at Reinhart.
"There's an increase in people looking (for rentals), and there's a decrease in availability," she explained. "Between the two, it's a deadly mix."
Fry, who runs Reinhart's apartment locator service, said the combination of an improved economy — which has resulted in more Ann Arbor businesses hiring — and an increase in renters could be affecting the market.
She's even had to temporarily place people in hotels until rental units open up.
"I've had a lot of people call, especially within the last month, and you can just hear the desperation in their voice when they ask, 'What am I going to do?'" she said.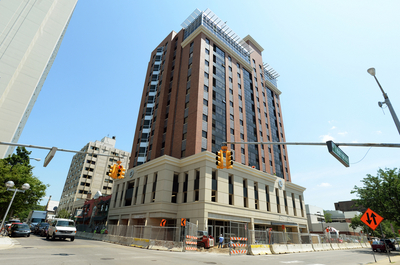 Melanie Maxwell | AnnArbor.com
Albert Berriz
, CEO of Ann Arbor-based
McKinley
, said he's noticed that the rental supply for non-students is very constrained.
Aside from the new complexes opening this fall, several apartment projects are in the pipeline for the downtown area. Among them: 618 South Main, The Varsity and Ann Arbor City Apartments.
A prime piece of downtown real estate next to Sloan Plaza at 413 E. Huron St. also sold recently and there are talks of another high-rise being developed there.
In recent weeks, local developers have proposed building apartments on top of or behind their downtown buildings, including one location on South Main Street and one on South State Street.
But Berriz said these projects are limited in their scope because they are downtown and many are targeting students.
"There is relatively no new supply coming into the market," he said. "Everything coming into the market is student housing. The person who is going to work at the (University of Michigan), or McKinley or for Washtenaw County…they can't live in one of those buildings."
He said the leasing at McKinley's 5,300 units in Washtenaw County is "very strong" — particularly on the north side of Ann Arbor following U-M's purchase of the former Pfizer site.
"(Ann Arbor) is McKinley's strongest market I would say in the Midwest for sure, and one of our strongest rental markets in the country," he said.
McKinley has little-to-no availability for fall 2012 — something Berriz said has been standard for the past two or three years. The company also retained 60 percent of its tenants this year, he said.
"Ann Arbor has historically not had occupancy problems," Berriz said. "We always have a lot customer loyalty…by and large, it's a very strong market in general."
Costello said that when one of Cabrio's units open up due to people's fall plans changing, the company gets flooded with 10 to 20 inquiries in a matter of 48 hours.
High demand — and Cabrio's approach to renovate buildings that are in poor condition — also allowed the company to bump up rents across the board this year, Costello said.
And those price increases, Fry said, are occurring at most rental units in Ann Arbor.
"Rents have increased significantly, unfortunately, I would say in the past year," she said.
But for Goldstein, a Connecticut native who went to college in Boston, her $400 a month rent in Ann Arbor is a steal compared what she's used to, and she's just happy to have found an apartment.
"I literally just took this apartment because it was somewhere — anywhere — to live," Goldstein said. "I had an awful time trying to find a place."
Lizzy Alfs is a business reporter for AnnArbor.com. Reach her at 734-623-2584 or email her at lizzyalfs@annarbor.com. Follow her on Twitter at http://twitter.com/lizzyalfs.