Posted on
Mon, Feb 15, 2010 : 5:27 a.m.
Ann Arbor neighborhood braces for two more store closings on Packard Road
By Angela Smith
It'ss been over 5 years of sweets and neighborhood treats at Paula's Place, but at the end of the month that will be no longer.
Owner Paula Fader-Graff feels guilty about the closing, but confesses that the economy has taken its toll in this local sweet shop, and the doors will close permanently on Feb. 26. It's not the only closing in the retail center south of East Stadium: Hollywood Video will close its doors, too.
"People are tightening their belts, and we opened just before things started to go south," Fader-Garff reports. That may not have given Paula's Place enough time to become truly established.
Nonetheless, neighborhood families really appreciated having a fun place to walk to with their kids. A perfect summer outing might include a double cheese from Marco's Pizza, a family movie rental from Hollywood Video, and ice cream cones at Paula's Place.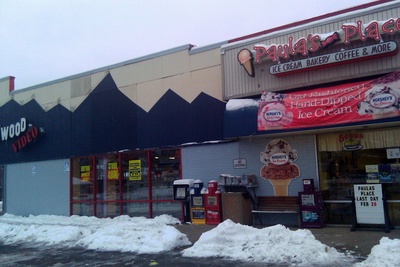 smith | contributor
Older kids would also sometimes bike up on their own. "What breaks my heart the most is the kids; they could come in and feel grown up and spend their own money. Parents trusted them to come in; it was fun." says Paula.
This closing comes less than a year after nearby Georgetown Mall closed the door on its last tenant, Kroger. Needless to say neighbors are concerned about what all of these vacancies will do to the property values and to the sense of community in this area.
Just weeks ago, Forbes warned that Hollywood Video and other video rental stores were struggling to keep up with the high tech movie rental market.
It's been an issue locally, too, as stores started to close a few years ago. Now the pace seems to be picking up: Downtown Ann Arbor's Liberty Street Video closed in the fourth quarter of 2009. Businesses like Netflix have both big and small video companies on guard.
An employee at the Packard Road Hollywood Video location said they were unsure how much longer the store would be around, "4 weeks? 6 weeks? 8 weeks." The store closings signs and sales are already posted, and that also goes for two other nearby locations, on Packard just east of Carpenter Road, and in Ypsilanti.
Also in the plaza are Marco's Pizza and Quest Martial Arts. A Marco's employee describes business as "so-so." Keith Copeland, owner of Quest, was unavailable to make comment.
As for Paula Fader-Garff, she has no immediate business plans, and looks forward to some time at home. Paula's Place will close its doors quietly, but not until after Fat Tuesday. On Tuesday, Feb. 16, sweet-tooths can rejoice as they find nothing but Paczki at Paula's Place. The decadent donuts are a traditional pre-Lenten treat served on Mardi Gras, and Paula promises that the ones she gets from Dexter Bakery are the best around. You can get yours for $12/dozen or $1.25/each.
Lead Shopping Blogger Angie Smith will hunt for deals and dish on the latest in retail in Ann Arbor. Readers will attain notices of great deals, and store happenings in and around the city. To report a news item or tip contact her at angieannarbor@gmail.com