Posted on
Sun, Nov 13, 2011 : 5:58 a.m.
The Kite Network: Families launch Washtenaw County volunteer grief counseling group
By Janet Miller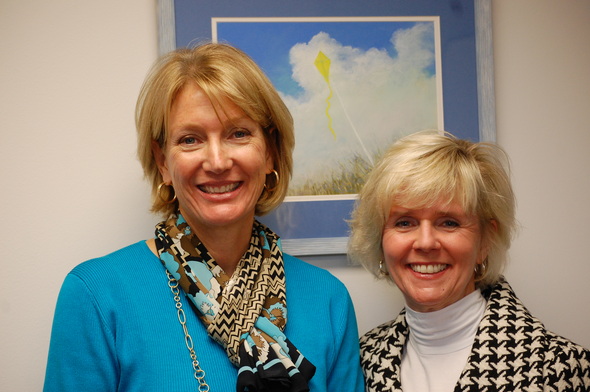 Janet Miller | For Ann Arbor.com
It took Julie Stotlar 18 months to find her breath again after her 6-year-old daughter, Lauren, was killed in a school bus accident. When she did, she reached out to other mothers who had lost a child, helping them come to terms with their grief.
Now, Stotlar has turned her one-woman mission into an organization that helps others through the dark tunnel of grief. The Kite Network is a nonprofit, all-volunteer peer support organization that offers free one-on-one help to Washtenaw County residents who have lost a loved one.
"It's very typical after you've endured a horrible, traumatic loss, it's hard to find meaning," Stotlar said. "We want to help people find meaning and purpose."
The peer counselors offer support for loss in traditional areas such as parent, child or spouse but will also address the grief that comes from losing a friend, partner, unborn child or pet, said Anne Rivard, executive director of the organization. It is modeled after Kara, a nonprofit grief support and education organization in Palo Alto, Calif.
The Kite Network does not offer professional counseling. For that, people are referred to professionals. But what they do offer is an open ear and the first-hand reassurance they people do come through grief.
Stotlar is proof.
Doug and Julie Stotlar's world changed on an early spring afternoon in 2000 when Lauren was struck and killed in Dexter by a school bus she had just exited.
"The grief was so deep, so big, so ugly," Stotlar said. "You feared letting other people see it." Slowly, she was able to piece her world back together. Helping others helped.
"I know how healing it is to help someone else through loss," she said. Stotlar and her husband had moved to northern California, where she was introduced to the Kara organization. When Stotlar found out they would be returning to Ann Arbor, she was trained as a peer counselor and looked to Kara as a model for her own organization.
She didn't do it alone. Jeff and Lisa Pitts lost their 2-year-old son Brandon to a virulent upper respiratory infection. When they went to counseling after his death, they were told that 75 percent of couples who lose a child divorce.
"Now I'm thinking I'm going to lose my wife," Jeff said. A local florist introduced the Pitts to Stotlar, who showed up on their front porch the next day with two white roses and the message that that they would get through their grief. The two families co-founded The Kite Network.
They turned to Con-way Inc., the Ann Arbor-based freight transportation company, for organizational help. Doug Stotlar is president and CEO of Con-way, which has some 31,000 employees.
The group also found professional help in Christy Miller, a social worker who became program director.
And then it came time to select a name for the group. It would have been easy to attach Lauren and Brandon's names to the organization, Stotlar said. But their children's legacies live with their families, and it wasn't necessary to name the organization after them.
Instead, they conducted a Web search for a domain name that wasn't taken but that reflected the work. They saw a picture of a bright yellow kite against a deep blue sky and knew it would be The Kite Network.
"There was the contrail of mist that suggests connection, like the connection you have with the person you lost," Stotlar said. "And the image spoke to me: That you still have control of your grief even when you feel you don't."
They developed a training manual and trained 12 peer counselors. They found a small office in the Washtenaw County chapter of the American Red Cross building on Packard Street. A year ago, they quietly began offering services.
Now, they are going public, looking for clients and counselors. They hope to attract funding (currently, small donations support material costs but there is no paid staff), grow and expand, Rivard said.
Counselors initially meet with clients in The Kite Network's office on Packard. After that, however, clients can choose where they want to meet, Stotlar said.
Clients must be 18 years or older and at some stage of dealing with bereavement. Volunteer counselors are on a personal grief journey of their own, but have acclimated to their grief. They must be willing to commit for at least a year. "Peer counselors are quietly present and supportive," Rivard said. "They stand and walk along side someone as they grow toward acclimation and acceptance and live their lives and move on."
Stotlar knows this. "When you suffer loss, you never get over it," she said. "But you become acclimated to it. Grief is not a disease. It's a normal human reaction to the loss of a loved one."
For more information, call 734-761-8213 or go to www.thekitenetwork.org.