Posted on
Mon, Mar 18, 2013 : 2:59 p.m.
Lululemon athletica to open store on Ann Arbor's Washtenaw Avenue
By Lizzy Alfs
Photo by Elvert Barnes
Yoga-inspired clothing store
lululemon athletica
plans to close its downtown
Ann Arbor
showroom and open a full-scale store on Washtenaw Avenue this year.
The location: the under-construction Arbor Hills shopping center between Platt Road and Huron Parkway.
"It just makes a lot of sense for us to be out there as part of the (corridor's) growth," said Nina Gardner, a community relations representative for lululemon.
Founded in Canada in 1998, there are now more than 200 lululemon locations worldwide, with the majority of its growth based in the United States. There is one store in Birmingham, Mich., one in Troy, and a showroom in Grand Rapids.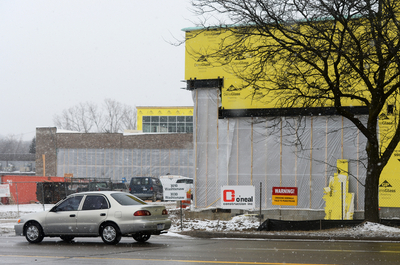 Melanie Maxwell | AnnArbor.com
The stores sell technical athletic apparel and are meant to act as "community hubs," offering complimentary fitness classes and hosting other events.
In 2010, lululemon opened a showroom in downtown Ann Arbor in a small, tucked away third-level space on East William Street. According to the company's website, showrooms are a "cozier version" of larger stores, with limited hours and less inventory.
Gardner said the Ann Arbor showroom will close a few weeks before the Washtenaw Avenue store opens late this summer.
"The showroom concept is so cool because it really allows us to get in communities," Gardner said.
"Downtown Ann Arbor is obviously the heartbeat of that community, but as Ann Arbor grows and the other area on Washtenaw grows, it just really is going to allow us to have access to different parts of the community," she continued.
She said the store will be open seven days a week and it will offer free fitness classes. The lululemon store in Birmingham hosts a run club, and Gardner said the company will determine what Ann Arborites want to see in their community.
"It's really about seeing what the needs of the community are and supporting it," she said.
She said the company plans to hire additional employees to staff the new store.
Lululemon will join more than 20 other tenants at the 100,000-square-foot Arbor Hills when it opens in August. Pizzeria Biga, Cafe Zola and women's boutique Hot Mama are among the tenants planning to open in the center.
Lululemon Athletica Inc. (NASDAQ: LULU) was valued at about $9.63 billion based on a Monday stock price of $66.68.
Lizzy Alfs is a business reporter for AnnArbor.com. Reach her at 734-623-2584 or email her at lizzyalfs@annarbor.com. Follow her on Twitter at http://twitter.com/lizzyalfs.