Posted on
Mon, Jun 17, 2013 : 2:15 p.m.
Luxury amenities overshadow studying in new student housing projects
By Lizzy Alfs
Student housing developers across the country are wielding lavish amenities to attract tenants, and that might come with some academic consequences, the New York Times reports.
With amenities like beach volleyball courts, game rooms and outdoor pools, these high-end student apartment buildings might seem more like a vacation than school.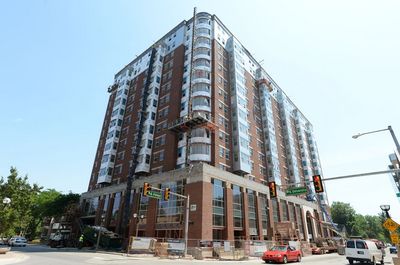 Melanie Maxwell | AnnArbor.com
"As private housing developers try harder than ever to outdo the amenities that their competitors offer in college towns, concern is growing about the academic and social consequences of upscale off-campus student housing," the report says.
In spite of the economic downturn, the student housing market in many college towns has remained strong and Ann Arbor is no exception. The downtown and near-campus apartment market has welcomed more than 1,500 new beds in the past several years. Meanwhile, approved and under-construction projects will result in an additional 1,300 beds in the coming years.
As housing competition increases, developers are looking for ways to set their buildings apart and attract tenants. Their conclusion? Amenities.
Downtown Ann Arbor's flashy new student high-rise apartment complexes such as Landmark, Zaragon Place and Zaragon West are offering a wide assortment of amenities to attract tenants — even as rental prices reach as high as $1,745 per bed.
The question is, with services such as a movie theater, outdoor hot tubs and billiards tables, will academic importance fall by the wayside?
Lizzy Alfs is a business reporter for AnnArbor.com. Reach her at 734-623-2584 or email her at lizzyalfs@annarbor.com. Follow her on Twitter at http://twitter.com/lizzyalfs.