Posted on
Wed, Jun 1, 2011 : 7:33 p.m.
Detroit-to-Windsor bridge opponents 'have an issue with free enterprise,' Rick Snyder argues
By Nathan Bomey
Nathan Bomey | AnnArbor.com
MACKINAC ISLAND—The battle over a
proposed second bridge spanning the Detroit River
is turning into an argument about which side is more pro-capitalism.
State Sen. Majority Leader Randy Richardville, R-Monroe, today introduced legislation that would allow the state to authorize a public-private partnership to build a bridge connecting Detroit to Windsor.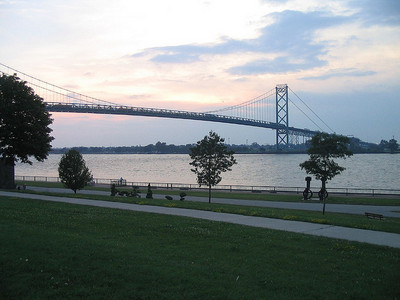 Photo courtesy of VideoVik via Flickr
And Gov.
Rick Snyder
held a press conference at the
Detroit Regional Chamber's annual Mackinac Policy Conference
to praise the proposal and lobby for support.
But the family that operates the existing private crossing over the river, the Ambassador Bridge, has waged a TV advertising campaign asserting that a new bridge would lose billions for the state.
So far, some Republicans in the state Legislature have blocked the bridge, saying they're concerned it won't be financially sustainable and that the government shouldn't create a bridge to compete with a privately owned span.
But today, Snyder, who has support from legislative Democrats for the project, said the new bridge was not a government project.
"It will be built by the private sector with private financing and run by a private party," he said.
He went further.
"If you don't believe in supporting this legislation, you're taking a position in some ways to say you have an issue with free enterprise and free competition," he said. "That's what this is all about is creating an environment where free competition and the free market can work."
Snyder said the success of the Mackinac Bridge proves that the government can be the catalyst in the creation of successful public infrastructure.
Snyder said that when the Mackinac Bridge, which connects Michigan's lower and upper pensinsulas, was first proposed, it drew intense skepticism from critics who said it "would destroy jobs," that there "wasn't enough demand for the bridge" and "the tolls wouldn't support it."
That rhetoric is similar to criticism facing the proposed public-private partnership that would be authorized to construct a new bridge over the Detroit River.
Snyder, speaking this afternoon at a press conference on the porch of the Grand Hotel, stood alongside bridge supporters from major Michigan companies, including the CEOs of DTE Energy and Meijer Inc., labor leaders and political allies.
A new bridge would be located a few miles from the existing Ambassador Bridge, which is owned and operated by Manuel "Matty" Moroun's Detroit International Bridge Co.
The Moroun family has waged a TV advertising campaign against the bridge, hired a lobbyist to oppose it and donated money to politicians from both parties to curry support.
All sides agree that a new bridge is necessary to meet projected growth in trucking traffic over the next several decades.
The Canadian government has promised to pay up to $550 million to cover Michigan's costs for building the bridge — and Snyder convinced the U.S. government to allow Canada's dollars to count as Michigan's matching funds for U.S. roadwork dollars. Canada's portion will be repaid using toll money.
Snyder said the success of the Mackinac Bridge shows that the New International Trade Crossing bridge, as it's called, can be successful.
"The criticism you're hearing — we've been to this movie before and it turned out good," Snyder said. "As you look behind you and see this beautiful bridge, it has been a wide-scale success for our state. Let's do it again in a constructive, positive way. It's a great opportunity to work together. As the legislation shows, we will not take on any debt for our citizens. We will not do this at the expense of our citizens. This is truly a win-win for all of us, for our partners in Canada, for the citizens of Michigan and for our businesses. So I'm fired up. It's time to build the bridge."
Snyder argued that a second bridge would bolster Michigan's growing international trade relationship with Canada. Of Michigan's $44 billion in exports in 2010, about 49 percent went to Canada — and that figure was up 36 percent from 2009, Snyder said.
"I'm not anti-ambassador bridge , I'm pro-international trade. Our goal here is to have all our crossings thrive and flourish. There's a lot of misinformation on this topic," he said.
So far, legislative Republicans have blocked the new bridge — so Snyder today asked business leaders at the conference to personally lobby lawmakers to support the bridge, which would create about 10,000 jobs during its construction.
Supporters of the bridge include General Motors, Ford, Chrysler, Toyota, Business Leaders for Michigan, the AFL-CIO and the Michigan Manufacturers Association.
The Ann Arbor/Ypsilanti Regional Chamber of Commerce is expected to endorse the bridge after a board meeting this week, as well.
A Canadian official told AnnArbor.com last week that U.S. Rep. John Dingell's 15th congressional district, which includes Ann Arbor, did about $6 billion in exports to Canada in 2009.
The governor's office issued a news release today saying that companies based in Ann Arbor itself accounted for about $900 million in exports in 2009.
"It's not just a Detroit issue," Snyder told reporters. "It's a Michigan issue."
Contact AnnArbor.com's Nathan Bomey at (734) 623-2587 or nathanbomey@annarbor.com. You can also follow him on Twitter or subscribe to AnnArbor.com's newsletters.