Posted on
Tue, Sep 11, 2012 : 5:59 a.m.
New look for restaurant menus: Ordering by tablet
By Ben Freed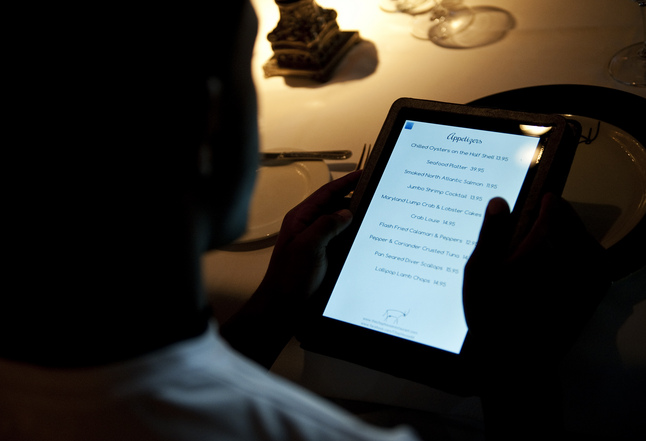 Daniel Brenner | AnnArbor.com
Eric Arsenault
did not set out to reinvent the "menu experience," as he calls it. But with the help of
Mainstreet Ventures
president and former
National Restaurant Association
chairman
Mike Gibbons
, he developed an app that could revolutionize the way customers look at food before it even gets to the table: It turns tablet computers into menus.
Ann Arbor diners can now experience the new way of choosing their courses at The Chop House, where Arsenault serves as the sommelier, and Real Seafood Co., both on South Main Street.
The app also is used at six other restaurants across the country.
The program, called Menuvative, allows restaurants to create their own menu that is linked to tablet computers running an Android operating system. Those tablets are handed out at the table and diners can flip, swipe, and tap through the menu, look at pictures of food, read nutritional information, and even get suggestions for wine pairings.
Diners at The Chop House said the new technology was easy to use, and they enjoyed the photos that accompanied each item on the menu.
"I still get my usual, but it's fun to look at the other options," Charissa Bass said. "It can be a bit more cumbersome than a paper menu, but overall it's nice and certainly unique."
Arsenault said he chose to use Android tablets because without tampering, iPads allow users to exit an app using a central button. He was adamant that the tablets be used for menus, not games or e-mail.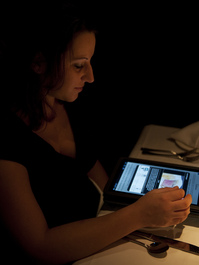 Daniel Brenner | AnnArbor.com
"In early testing we saw a lot of people trying to get out of the menu so they could find Angry Birds or get on the internet, and ultimate that's detrimental to the restaurant," he said.
"We want to maintain the dining experience as it is, (and) make the dining experience better not worse. You don't want to slow down table times."
To use the tablets, restaurants upload their own menu into the Menuvative web app either by themselves (if they are tech savvy) or with Arsenault's help. The menus are specific to each restaurant and can be altered to create a unique look and feel for each location.
Once the menu is designed, the owner pays $6-11 per tablet monthly for the "keys" to activate them as menus. The tablets receive their information from the central hub via wireless internet connections, and the offerings and prices can be changed at any time by the central system.
Arsenault was toying with the idea of creating an interactive wine list for the company's website when two coincidences and the endorsement of a major restaurateur led him to develop the new technology.
"I saw a guy sitting in the dining room with an iPad and I thought 'I should be doing this for the Web; I should be doing so people can look at it table-side," he said.
A survey of the apps available for tablet-based wine lists convinced Arsenault that there was not an option yet that would satisfy everything he wanted to get out of the program.
"And I was training someone at the time and they were asking me about food and wine pairings and how it always would stump them," he said.
"And I told him that there were only so many structural characteristics to the wine and food, it's more about knowing the database of wine and the database of food at your disposal. As soon as I said the word 'database' I went 'Whoa, wait a second.'"
Arsenault's revelation was that what was needed was an algorithm to pair a restaurant's wine and food offerings based on giving characteristics of the choices. He started working on what would become Pairing Pro, a patent-pending program that takes factors such as acidity, weight, and tannins from food and wines and pairs them for optimal enjoyment.
Coincidentally, Gibbons had also been looking into technologies to bring to his restaurants. Mainstreet Ventures is an Ann Arbor based restaurant collective that includes The Chop House and Real Seafood Co. in Ann Arbor as well as 13 other locations across the Midwest and Eastern Seaboard, including Grand Rapids.
Daniel Brenner | AnnArbor.com
When Gibbons suggested looking into bringing technological wine lists to the restaurants, Arsenault decided it was finally time to show off what he had been working on. Gibbons liked what he saw in Pairing Pro, but thought the potential of the product had greater reach, especially with the recent passing of the
Affordable Care Act
.
"I said the biggest thing coming down the road impacting our industry is the mandate to provide nutritional information that will go into effect in 2013," he said.
"So we said why don't we come up with something more comprehensive than the wine list, because other people are already doing that. So we came up with the concept for the full menu."
The pair started a new business, imenutech, to develop the new technologies they saw as a crucial part of the future of the restaurant industry. Gibbons was hesitant to reveal his and Eric's running of the company when the first menus were first piloted at the Chop House in February because he wanted to get honest feedback from customers and servers using the product.
After overwhelmingly positive responses, including from Gibbon's 86-year-old mother and also from his granddaughter, other Mainstreet Venture restaurants started to put the menus into use.
Other Ann Arbor establishments are also investing in tablet and app technology. Ashley's on State Street has moved its "Beer Tour" program online.
President Jeff More said he has invested $10,000 into creating apps for servers to input information on tablets and for customers to track their drinking habits.
More said the technology will help him track what people are choosing to drink and eventually will be able to suggest beers to patrons based on what they have enjoyed in the past.
Other restaurants may follow suit.
Nationally, the use of tablets started in major markets in 2011. This week, Tallulah Wine Bar and Bistro in Birmingham, Mich. will be the first non-Mainstreet Ventures restaurant to use the Menuvative system. Arsenault said he anticipates more business coming in after he gets a turn on the stage as a feature presenter at the Michigan Restaurant Association trade show in October.
Gibbons estimates that he has invested approximately $250,000 into the first phase of development for imenutech. He and Arsenault agree that it's money well spent as an investor, but also as a restaurateur because they believes Menuvative will benefit restaurants in multiple ways.
"It's greener and cleaner by far. We used to print 300 lunch and dinner menus on giant pieces of paper every week at Real Seafood, Co.," Arsenault said.
"Just the tonnage of paper they were not going to be wasting, let alone the $25,000 it cost to print all that, will allow restaurants to break even in one year with the new technology."
And that cost analysis comes before what Arsenault calls "guest check changes" that resulted from using the new menus.
"We're seeing that with people being able to see photos of the food and getting the perfect wine pairings, they are ordering even more," he said.
"At our Chop House restaurant in Annapolis, Md., it went from $62 per check to $92 overnight. The tablets paid for themselves in just one month."
Ben Freed covers business for AnnArbor.com. Reach him at 734-623-2528 or email him at benfreed@annarbor.com. Follow him on twitter @BFreedinA2