Posted on
Sat, Aug 31, 2013 : 5:59 a.m.
Make your own painting: The Paint Station to open on Washtenaw Avenue
By Lizzy Alfs
Kendra Wilkins wants to help Ann Arborites unleash their creativity at her new business on Washtenaw Avenue, The Paint Station.
Wilkins and her business partner, Catrina Vaughn, plan to open the art and entertainment venue at 7 p.m. on Sept. 6. It's located in the Huron Village shopping center at 3255 Washtenaw Ave., in a 1,200-square-foot space above Panera Bread.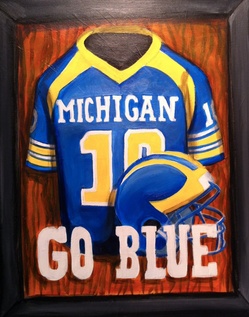 Courtesy photo
"(The Paint Station is) for people to come out and have fun and paint and bond with friends and unleash their creativity," Wilkins explained. "They will complete a piece of artwork within two to three hours."
The concept isn't new, Wilkins said; social art venues are popular in the U.S., there just aren't many in the Ann Arbor area. A business with a similar concept, Paint and Pour, recently opened on South Main Street in downtown Ann Arbor. Paint and Pour customers can bring their own alcoholic beverages and snacks.
"It's something new and creative that's actually coming toward the Midwest," Wilkins said. "It's been in existence for a while, but it's not in the Midwest."
"It's like a fun night out or afternoon out, but you're learning," she added.
At The Paint Station, people can sign up for a two- or three-hour painting session and a professional artist will help them create a designated painting.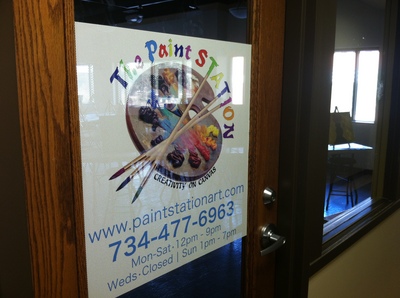 Lizzy Alfs | AnnArbor.com
The Paint Station doesn't have a license that allows people to consume alcohol, but Wilkins hopes to get one in the next three to six months. Customers can bring their own food and non-alcohol refreshments.
"We have a calendar (on our website) and we have a different painting each day and we have different times. …You go online and reserve your seat, or you can reserve by calling The Paint Station," Wilkins said.
She continued: "We supply the artists, the easels, the canvas, the paint and the paint brushes. You complete the session, have fun networking and take your painting home."
A two-hour session at The Paint Station costs $35 per person, or $25 for children between 7 and 12 years old. A three-hour session costs $45 per person. The Paint Station also offers private parties for groups of 15 or more.
The Paint Station can accommodate 35 to 40 people in each session. As a former jewelry store, the space in the Huron Village shopping center was easy to renovate, Wilkins said. It's an open space with easels and tables set up for customers.
"I liked the area, and the growth in the area," Wilkins said. "(I liked) the new construction that's in the area and the mall across the street, and just the exposure with the other existing businesses around. We think it will be a great fit."
Wilkins said she is still looking to hire additional artists and assistants.
Lizzy Alfs is a business reporter for AnnArbor.com. Reach her at 734-623-2584 or email her at lizzyalfs@annarbor.com. Follow her on Twitter at http://twitter.com/lizzyalfs.