Posted on
Sun, Apr 18, 2010 : 6 a.m.
Many Ann Arbor restaurant, bar owners eager to snuff out smoking as ban approaches
By Sven Gustafson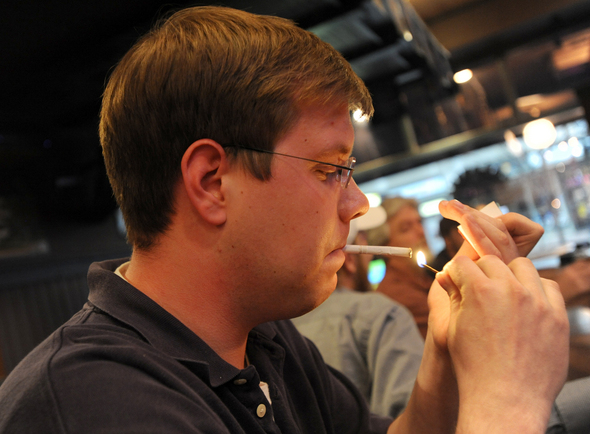 Lon Horwedel | AnnArbor.com
The statewide smoking ban may be heralding big changes for Michigan's hospitality industry, but Ann Arbor bar and restaurant owners largely aren't sweating the switch to smoke free.
A combination of factors — not the least of which is a dwindling population of tobacco users and successful precedents in other cities and states — has many Ann Arbor restaurateurs looking forward to the change.
GOING SMOKEFREE
About 70 percent of the county's approximately 1,100 food service establishments are already smoke-free. But that still leaves about 300 impacted businesses within the county. Here's a look at the compliance checklist sent out to Washtenaw County businesses to prepare for the smoke-free law.

By May 1st, businesses must:
Learn about how the new law impacts your business at www.michigan.gov/smokefreelaw. For instance, all outdoor patios that allow food or beverage service must be smoke free, in addition to indoor areas being smoke free by May 1.
Discuss and train your new employees regarding enforcement of the new law. Instruct them how to handle a customer who decides to smoke after the law is in effect. For instance, train employees to tell smokers, "State law no longer allows smoking inside here. I'm sorry, but you'll have to step outside to smoke."
Post required no-smoking signs. Downloadable signs are available for free at www.michigan.gov/smokefreelaw.
Remove any indoor ashtrays or other smoking paraphernalia. Washtenaw County's health department interprets this to include paraphernalia used for decorative purposes.
Direct anyone who is smoking to stop or to step outside in an area not meant for the consumption of food.
Keep information about the law on hand.
If a Washtenaw County bar or restaurant is not complying with the law or if customers have questions about enforcement, they should contact Washtenaw County environmental health at 734-222-3800. They can also call for more information at the state hotline: 1-866-59-SMOKE.
SOURCE: Washtenaw County Environmental Health
"My place will get busier when this nonsmoking comes in, I guarantee it," said Bill Fraser, the owner of Fraser's Pub on Packard. Staff there will spend half a week prior to the May 1 smoking ban cleaning the restaurant and repainting to get rid of three decades worth of accumulated smoke odors, he said.
"If I did it myself, and other bars didn't do it, it would probably hurt me," Fraser said of going smoke-free. "But because all bars have to do it, it's going to be a big plus."
The smoking ban, signed in December and effective May 1, prohibits smoking in all workplaces, public places, and anywhere that food or beverages are served, including restaurants with outdoor seating. Cigar bars, tobacco shops and the gambling floors of the three Detroit casinos are exempt from the law.
The law makes Michigan the 38th state to ban smoking in public places. It comes after years of unsuccessful attempts to pass similar legislation and despite the opposition of groups like the Michigan Restaurant Association.
"I'd say a handful (of regulars) are upset about it," said Don Knight, whose family has owned Knight's Steakhouse on the city's west side since 1984. "They tell me they will continue to come, they said don't worry about that. They just don't agree with the government telling them what they can and cannot do. But most of them are pretty positive about it."
Traditionally a popular destination among smokers, the ranks of smokers have thinned in recent years to an estimated 20 percent of clientele, Knight said.
"We're pretty popular how we are," he said. "Any time you make a change it's always a big risk. We feel that we will hopefully get busier. We hear that a lot of people avoid us because of the smoke."
At the Old Town Tavern in downtown Ann Arbor, co-owners Steve and Chris Pawlicki are of different minds on the ban.
Chris believes the ban will attract new customers who are put off on nights like Fridays, when as many as 75 percent of customers light up. "Even the smokers complain about the smoke, that's what kills me," he said.
But Steve worries that prohibiting regulars from smoking will fundamentally alter the dynamics of the longtime watering hole.
"To me, a bar is liquor, tobacco and adults," Steve Pawlicki said. "You take out one of those ingredients, namely tobacco, you're mainly just a restaurant."
The bar currently does an estimated 60 percent of its business in alcohol, and Steve said many servers are nervous about the impact of the ban on their incomes.
"I've always wanted to be in the bar business," he said, "I'm not sure I want to be in the restaurant business. I don't want to buy any more highchairs. I enjoyed the fact that I was in an adult-oriented business."
The upcoming ban is welcome news for non-smokers, like Ashley Smith and Seth Meyers, who were grabbing lunch in the sidewalk seating area at the Prickly Pear on Main Street on Friday. Both said they thought the new law might help business.
"It think it's a good idea. Being around people who are smoking is unhealthy," Smith said. At the very least, it can be unappetizing eating outdoors if someone is smoking the next table over, she said. "I think more people will go to bars and restaurants because there is a good percentage of the population that does not smoke and who don't want to be around it."
But some smokers say the law is unfair and might drive them away from purchasing as many drinks at the bar or heading to a restaurant in the first place.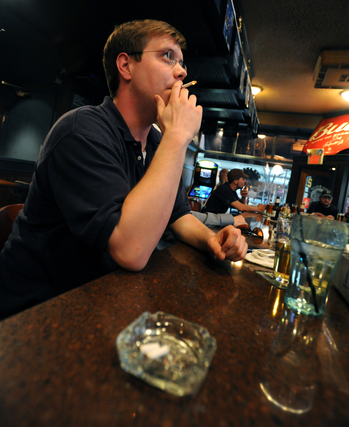 Lon Horwedel | AnnArbor.com
Friends Elizabeth Johnson and Jaclyn Fidler were enjoying the weather on Friday by grabbing a snack and enjoying a cigarette at the tables outside a juice shop in Ann Arbor. Come May 1, they won't be able to do that anymore.
Johnston is incensed about the law, questioning why the state would bar smokers from lighting up in dining areas outside even when others aren't around. She also questions how difficult it will be to enforce.
"It's taking away a fundamental right of choice when it's not impacting anyone," she said.
Not all smokers felt as strongly. Ann Arbor resident Kenta Tsushima was enjoying a cigarette outside and hadn't realized the new law would be in effect in less than a month. At first, he reacted with great disappointment.
But after a few moments of thought, he said he personally won't smoke in his own home and didn't find stepping away from dining areas too difficult. He's been a server before and could see where turnover would be faster for outdoor tables if smokers aren't loitering.
One accommodation he does hope for, he said, is for establishments in Ann Arbor will put heaters outside for smokers during the winter months.

At least 70 percent of the county's 1,100 establishments - including fast food restaurants and community buildings like churches - that can serve food are already smoke free. But that means more than 300 restaurants and bars will be making the switch.
There is precedent for nervous business owners. Similar bans in other states reportedly haven't had a deleterious effect on business, and some Ann Arbor bars have already taken the smoke-free plunge voluntarily.
Casey's Tavern snuffed out smoking nearly four years ago and did see a drop — at first. But food revenue rose, as did sales of wine. And the bar gained a more family oriented crowd, said Paul Thomas, the bar's general manager.
Ann Arbor is "kind of a microcosm" for nonsmokers, he said. "Would I do this in an industrial city by choice? Probably not, but Ann Arbor is a different market."
Nick Easton agrees.
The owner of the Cavern Club, Millennium Club, Gotham City and Circus Bar & Billiards says the new law could hit traditional shot-and-a-beer bars that don't serve food and rely primarily on devoted regulars the hardest. But there aren't many establishments left in the city that fit that bill.
"Not anymore," Easton said. "It's too cosmopolitan."
AnnArbor.com's Tina Reed contributed to this story.
Sven Gustafson is a freelance writer for AnnArbor.com. Contact him at sventg123@gmail.com, or follow him at twitter.com/sveng.