Posted on
Fri, Feb 10, 2012 : 5:59 a.m.
City Place student apartments start leasing as construction continues
By Lizzy Alfs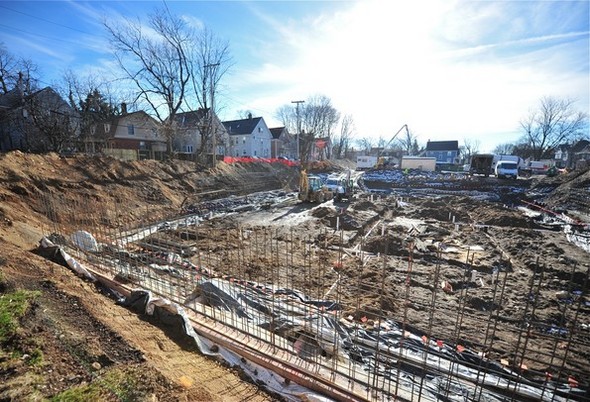 Ryan Stanton | AnnArbor.com
Joining the list of student apartment projects aiming for a fall 2012 opening,
Ann Arbor's City Place
has begun leasing its 24-unit, five and six bedroom apartments.
The controversial project, which is being built on Fifth Avenue just south of William Street and downtown, started demolition of seven houses in the Germantown neighborhood in November.
The 64,750-square-foot project consists of two identical apartment buildings with a surface parking lot in the middle.
With construction underway, developer Campus Village Communities has begun marketing the apartments for lease. The company has a marketing website, a leasing office at 339 E. Liberty St. in downtown Ann Arbor and a Craigslist ad posted for the apartments.
A six-bedroom, six-bathroom unit ranges in price from $1,000 to $1,200 per bedroom. A six bedroom, shared bathroom unit is $900 per bedroom. The Craigslist ad markets the bedrooms starting at $850.
Among the amenities: in-unit washer and dryer, granite countertops, in-unit game room with a pool table, fully furnished bedrooms, free wireless internet and satellite TV.
With two other student apartment projects - Landmark and Zaragon West - also aiming for a fall 2012 opening, developers are wielding lavish amenities in an attempt to attract tenants.
Landmark, a 14-story, 600 bedroom high-rise located on South University Avenue, has amenities such as tanning beds, a yoga studio, fitness center, movie theater and game room. Prices range from $975 to $1,745 per bedroom.
The 14-story Zaragon West, located on Thompson Street, has 199 bedrooms, with prices ranging from $1,100 to $1,650 per bedroom. Amenities include a fitness center, indoor parking and high-definition TVs.
Both high-rises began signing leases in October, and the developers told AnnArbor.com that units were filling up quickly at the time.
Check out the virtual tour for City Place below. Click here to read the Craigslist ad marketing the apartments.
Lizzy Alfs is a business reporter for AnnArbor.com. Reach her at 734-623-2584 or email her at lizzyalfs@annarbor.com. Follow her on Twitter at http://twitter.com/lizzyalfs.