Posted on
Fri, Mar 12, 2010 : 3:13 p.m.
Masco Cabinetry moving corporate HQ, 350 jobs to ex-Flint Ink building in Ann Arbor Township
By Nathan Bomey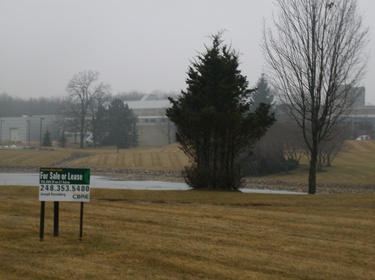 This story has been updated.
Consumer product manufacturer Masco Corp. is close to announcing that it will consolidate at least 350 workers into a new research-and-development operation at the former Flint Ink facility in Ann Arbor Township, AnnArbor.com has learned.
Masco plans to transfer 350 workers from facilities in Middlefield, Ohio and Adrian, Mich. to the long-dormant Flint Ink building. The company also plans to add another 100 jobs at the site over the next five years, according to a tax abatement application filed with the township.
The site will serve as the corporate headquarters for Masco Cabinetry Co., a new consolidated division of the $7.79 billion Taylor-based corporate giant's Retail Cabinet Group and Builder Cabinet Group.
Masco Corp.
Headquarters: Taylor, Mich.
Company profile: Five divisions manufacture, distribute and install home improvement products.
Brands include: Delta and Peerless plumbing products, Behr Paint, Merillat and Kraftmaid cabinets
Ticker: MAS on the New York Stock Exchange
Market cap: $5.43 billion
2009 sales: $7.8 billion, down from $9.5 billion in 2008
Full time employees: 35,000
Masco has filed a $7.75 million tax abatement application with Ann Arbor Township to locate its operation in the empty 150,000-square-foot building, located on Arrowhead Drive off Dixboro Road southwest of Plymouth Road.
"Existing multi-use office and research & development facility, after extensive remodeling, will be used by the applicant as a consolidated corporate headquarters and product research & development innovation center," according to the firm's tax abatement application.
Masco announced in February that it would consolidate at least 327 employees into one facility.
Lawrence Leaman, a vice president of Masco Cabinetry Co., whose name was listed on the firm's tax abatement application, declined to offer details about the firm's plans.
"What's been publicly disclosed at this time is that we're essentially reviewing possible sites in the state of Michigan and the state of Ohio," he said this morning. "We're still formulating the entire decision-making process."
Ann Arbor Township Supervisor Michael Moran declined to comment.
The Flint Ink building has been listed for $12 million with CB Richard Ellis, based in Southfield. It was built in 1986 on 27 acres as a corporate headquarters. The facility has about 66,000 square feet dedicated to research space, with nearly 85,000 square feet in a three-story office wing and room for expansion.
According to marketing materials, the lab could be converted to office use. The building also has a cafeteria, fitness center, executive parking garage, auditorium and shipping/receiving docks.
Masco Cabinetry plans to spend $4 million on land and building improvements. That includes $2 million to add 40,000 square feet of office space, $1.4 million to remodel offices and an R&D laboratory, and $300,000 to demolish a lab.
The firm also plans to house $3.75 million in equipment and office fixtures, including $2.5 million for research equipment, $1 million in computers and servers and $250,000 in office equipment.
Masco's sales fell along with home sales during the economic downturn, but company officials took several steps to maintain viability:
• It closed 17 manufacturing facilities from 2006-2008. • It cut employment by 23,000, or 40 percent of the North American workforce, during the same timeframe. • It reduced its dividend by about 2/3.
As a result, the company ended 2008 with over $1 billion in cash, according to the annual report. And that grew to $1.4 billion by the end of 2009.
One of the facilities closed by the company was a Merillat factory in Adrian, said Jim Gartin, president and CEO of the Lenawee Economic Development Corp.
"It was pretty clear at that point that the headquarters was next," Gartin said.
Relocation options included sites in Southeast Michigan and Ohio, Gartin said, and he said he and his staff expressed hope that the 200 employees in Adrian, located southwest of Ann Arbor in Lenawee County, would be able to commute to the new facility.
"We were very supportive of the Ann Arbor location because we felt many more employees would be (able to stay in Michigan)," Gartin said.
Customer service functions will remain in Adrian, Gartin said. That's estimated at about 50 jobs.
Despite the loss for Adrian, Gartin expects to work with Masco officials on finding a new user for the offices it vacates in the community.
"We've worked with Masco real estate people on the manufacturing facility to repurpose it and I'm sure as they make the transition with the corporate headquarters, we'll do the same thing," Gartin said.
Macso's 2009 annual report gives some indication that the new R&D facility in Ann Arbor Township office may be focused on the cabinet division's development of "green" building products. It also shows the key position of product development in the company today.
"We are very encouraged by our 2009 financial and operating performance in one of the more difficult economic environments Masco has ever experienced. Although our sales were down 18 percent, compared to 2008, we were able to offset a significant portion of our volume declines, primarily as a result of innovative new product introductions and market share gains," said Masco's CEO Tim Wadhams in a news release accompanying details on performance.
The previous year's report specifically cited product R&D as a way to grow market share on existing brands.
"Masco is leading the way in helping builders construct homes that offer energy efficiency, indoor environmental quality, water quality and durability benefits," according to the report.
Meanwhile, the brands in the two cabinet divisions that will be combined into the Masco Cabinetry division also play a key role in the company's future.
"We believe that our strong financial position, together with our current strategy of investing in leadership brands (including: KraftMaid and Merillat cabinets, Delta and Hansgrohe faucets, Behr paint and Milgard windows), our continued focus on innovation and our commitment to lean principles will allow us to drive long-term growth," according to the report.
Ann Arbor business leaders welcomed the news that the area could soon be home to a new headquarters. The number of employees, the expected pay scale and the R&D functions all are cited as positive aspects of the proposal.
"The economic impact will create an upward spiral of positive influence from a company like that," said Diane Keller, president of the Ann Arbor-Ypsilanti Regional Chamber of Commerce.
Masco corporate leadership connections to Ann Arbor include Wadhams and Sharon Rothwell, vice president for corporate affairs, both of whom live in the Ann Arbor area.
Executive chairman and former CEO Richard Manoogian has a personal net worth of over $1 billion, according to Forbes. He's also a leading philanthropist in southeast Michigan with ties to the Detroit Institute of Arts and The Henry Ford. The Manoogian family has funded endowments that helped establish the Armenian Studies Program at the University of Michigan.
Business News Director Paula Gardner contributed to this story. Contact AnnArbor.com's Nathan Bomey at (734) 623-2587 or nathanbomey@annarbor.com or follow him on Twitter. You can also subscribe to AnnArbor.com Business Review's weekly e-newsletter or the upcoming breaking business news e-newsletter.