Posted on
Thu, Jul 26, 2012 : 5:59 a.m.
'Mash' whiskey and beer bar to open tonight in downtown Ann Arbor
By Lizzy Alfs
Salsa nights and mojitos are being replaced with live music and whiskey as downtown Ann Arbor's Cafe Habana Cellar Lounge transitions into a new concept this week.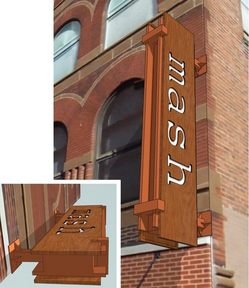 Photo from mash Facebook page
The lounge, located in the basement of
Blue Tractor
at 207 E. Washington St., is being renamed 'mash' — a "bourbon, whiskey and beer bar," according to its
Facebook page
.
In an interview with AnnArbor.com, Cafe Habana and Blue Tractor owner Jon Carlson said mash will carry beer made in-house, along with whiskey and bourbon from distillers around the country. There will also be a "great wine list" and a full bar, he said.
"We're going to have a huge selection," Carlson said. "We'll also travel down to Kentucky and other parts to get special single-batch versions of whiskey. There will be an evolving, revolving menu of different rare bourbons."
He added: "We wanted to have inspired new cocktails based upon the most American of spirits. I think people will be surprised; some of the drinks we'll be making are so refreshing with fresh fruit and our infused ice cubes and some herbs."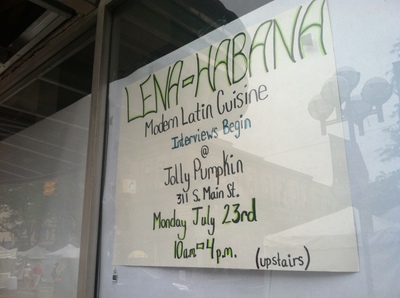 Lizzy Alfs | AnnArbor.com
The space underwent a complete remodel in the past two weeks in preparation for the grand opening party tonight at 6 p.m. Local musician Laith Al-Saadi plans to perform at 9 p.m.
"We have vintage wallpaper, (Thomas) Edison light bulbs throughout, and we had an amazing retro gas fireplace installed," he said. "The feel of the space is maybe 1910, 1920s."
The Laith Al-Saadi Trio will then have regular performances on Thursday nights and Michigan musician Jetty Rae will also perform occasionally, according to Blue Tractor's website.
Carlson said mash plans to have live music a minimum of two nights a week, with a DJ spinning vinyl records on weekend nights.
"It's going to be more hang-out, chill music," he said. "It will be a whole mix, but kind of more the modern folk music that has been a growing genre."
The opening of mash is part of a series of changes for Cafe Habana and Blue Tractor — which are both owned by Carlson and his business partner, Greg Lobdell, along with other investors.
In January, the Cafe Habana restaurant
closed
to make room for a Blue Tractor expansion. The Habana lounge, which is known for its popular salsa nights, remained open in the basement following the closure.
At the same time, Carlson and Lobdell signed a lease to move the Cafe Habana restaurant to the former Parthenon Restaurant at 226 S. Main St. in downtown Ann Arbor.
Carlson told AnnArbor.com that the new Cafe Habana space on Main Street will have a first-floor restaurant named Lena and the Habana lounge will be relocated to the basement — both should be open before Labor Day weekend, he said.
With both Lena and mash, Carlson said the goal was to bring an entirely new concept to the area.
"I think it's going to be something new for Michigan," he said. "I think people will really be surprised."
Lobdell and Carlson opened Cafe Habana on East Washington Street in 2007. A year later, they opened the Blue Tractor barbecue and brewery next door.
Other ventures they're involved with: Ann Arbor's Grizzly Peak and Jolly Pumpkin; Traverse City's Mission Table, North Peak Brewing Company, Kilkenny's Irish Pub, Blue Tractor, Jolly Pumpkin and Bastone Brewery; and Royal Oak's Vinotecca.
Lizzy Alfs is a business reporter for AnnArbor.com. Reach her at 734-623-2584 or email her at lizzyalfs@annarbor.com. Follow her on Twitter at http://twitter.com/lizzyalfs.