Posted on
Tue, Jun 15, 2010 : 6:01 a.m.
May home sales data show volume gains and some price stabilization in Washtenaw County
By Paula Gardner
May home and condo sales data for Washtenaw County showed continued impact from the federal home buyer tax credits, local industry experts said as the numbers were released Monday.
Yet the ongoing sales gains coupled with a drop in activity and unabated pressures from foreclosures are leaving many Realtors expressing what they describe as cautious optimism.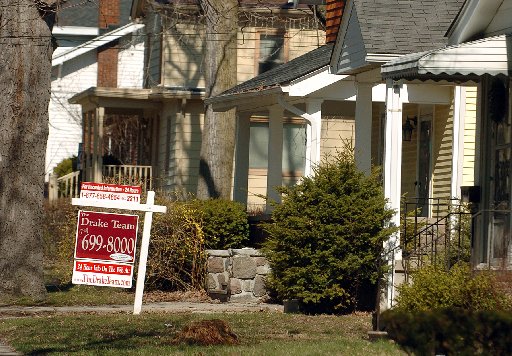 File photo
The data from the Ann Arbor Area Board of Realtors showed:
• Home sales rising 38 percent to 323 units in May over the previous year. • Condo sales rising 53 percent over the same time period. • Monthly dollar volume climbing 9 percent to $60.4 million. • Home listings falling 28 percent to 500 new units coming onto the market, while condo listings rose 4 percent or 5 units, with 126 new listings.
The numbers are enough to keep 2010's overall market trend outpacing 2009. The year-to-date dollar volume, for example, is up 23 percent at $211.8 million.
June numbers, when they're released in early July, also are forecast to show market improvement, due to ongoing closings stemming from deals struck by April 30, the deadline for the federal buyers credits.
Most in the industry, however, agree that the pace has slowed.
"It's certainly slowed down since April 30," said Bill Flood, an office manager at Edward Surovell Realtors in Ann Arbor. "We have people who are searching in every price range, but they're pickier now. They don't feel like they're in a mad rush (to make the deadline)."
Also affecting the sales pace, he said, is the slowdown in new listings. Buyers in some price ranges feel like they've seen the best properties on the market.
"We need good inventory," Flood said.
Meanwhile, the pace of foreclosures is not slowing, said Susan Fecteau of Tree House Realty Group in Ann Arbor.
"I'm not seeing a slowdown in bank-owned assignments," she said.
Data from the Washtenaw County Clerk's office show that monthly sheriff's deed sales - the foreclosure step when the deed is transferred from the homeowner, who then faced a specific redemption period to reclaim ownership of the home - is up over 2009 totals.
As of May 31, there were 588 sheriff's deeds recorded in the county, compared to 526 in 2009. The total for May was 125, the highest tracked for that month.
Most of those homes will be put on the market, but the timing could range from a month to a year, depending on when owners leave the property and its condition.
The bank-owned foreclosures, when they hit the market, still tend to be priced less that comparable privately owned homes, Fecteau said. That will keep pressure on home prices.
"There's still going to be foreclosure bargains," she said. "Those aren't going to go away. That's what's going to keep the downward pressure."
The average sale price in May was $186,970, and the median sales price for a home was $157,000. A year earlier those numbers were $236,897 and $161,000. That compares to May 2006 - the year the market showed the early signs of its slowdown - when the average sale price was $270,797 and the median home price was $225,450.
Still, she said that some areas of Ann Arbor are seeing price stabilization.
That's confirmed by Peter Hendershot of Affinity Valuation Service of Ann Arbor.
Data from May 2009 through May 31 2010 in the submarkets that combine to make the citywide market shows that "the average sales price per square foot is pretty stable across the board," he said.
Some other communities - like Saline and Dexter - also appear to be stabilizing, based on 12-month sales data.
That indicates that the rapid free-fall in value in the region since 2006 is slowing in some areas.
"Will the trend continue?" Hendershot asked. "We don't know."
Paula Gardner is Business News Director of AnnArbor.com. Contact her at 734-623-2586 or by e-mail. Sign up for the weekly Business Review newsletter, distributed every Thursday, here.