Posted on
Fri, May 11, 2012 : 5:59 a.m.
Maynard Battery building in Ann Arbor sold; long-time business moves out
By Lizzy Alfs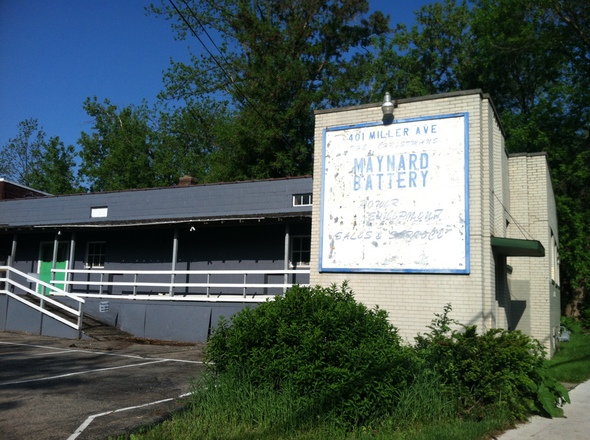 Lizzy Alfs | AnnArbor.com
Maynard Battery
, a nearly century old parts and repair business in Ann Arbor, is closing its shop on Miller Avenue after the building was sold last month to an Ann Arbor area manufacturing company.
The 5,000-square-foot industrial building — which is located at 401 Miller St. just west of North First Street — was sold to the Trenton Corporation last month for $450,000, according to city documents. Its 2012 assessed value was $381,000.
Trenton Corporation is a manufacturer of anticorrosion protection products that has its corporate office at 7700 Jackson Road. The company also has offices in Houston and Paris.
Listing broker Jim Chaconas of Colliers International's Ann Arbor office said Maynard Battery owner David Christman, who declined to immediately comment, was ready to move on after decades of business in the downtown area.
"I think with that kind of self-propriety business, he worked every day," Chaconas said. "I think he's going to take time off to reflect and see what he wants to do."
The Miller Avenue building has been home to Maynard Battery since 1965 when the business moved from East Washington Street. The business changed over time, but Christman mostly repaired lawn mowers and snow blowers.
The industrial building, which is known for its chipped and faded sign, was originally constructed for a root beer bottling factory.
"Because it's an old root beer plant, in (David's) office you can see where they had the formula room," Chaconas said. "It's a cool little building with great parking, and you can walk to downtown."
As the building's ownership changes hands, Ted Kennedy, whose family owns Trenton Corporation, said they plan to use it as storage space.
"We're buying it to use as miscellaneous storage and to maybe shoot some training videos," he said.
Reflecting on Maynard Battery's decades in operation, Chaconas said the business will be missed by many people in the area.
"I've always taken my stuff there," he said. "Half the people I know do. It's convenient and (David) does a great job. He could fix anything."
Kennedy added: "I grew up in Ann Arbor and in that neighborhood, and it's funny, my family used to go there."
Lizzy Alfs is a business reporter for AnnArbor.com. Reach her at 734-623-2584 or email her at lizzyalfs@annarbor.com. Follow her on Twitter at http://twitter.com/lizzyalfs.