McKinley and other property managers to get back-office support as NWP opens office in Ann Arbor
Posted on Thu, Aug 2, 2012 : 5:55 a.m.
California based NWP Services Corporation is setting up shop in Ann Arbor. The company, which helps property mangers with bill collection and payment is opening an office in McKinley, Inc.'s Liberty Square offices at 500 E. Washington St.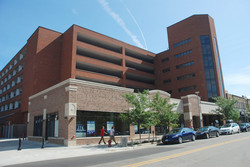 The new office initially will house 25 employees who will be responsible both for dealing with McKinley's clients and with NWP's new
SmartSource
service.
"This is going to be a combination office," Ken Polsinelli, chief real estate officer at McKinley, said.
"We're one of their key clients, and they're moving other services here as well. They're planning on building out their base here in Ann Arbor."
According to Polsinelli, NWP will be responsible for back-office support for McKinley's approximately 33,000 multi-family residential units spread across 25 states.
"We are world class at serving our customers, and we focus on the real estate side of the operation," he said.
"They are focused on the more back-office functions. This was a decision to bring in a partner that would help us function at a world class level in that area as well."
SmartSource, NWP's newest service, will allow multi-family residential property managers to outsource back-office functions. The new Ann Arbor office will be tasked with supporting the service, employing a combination of information technology experts and financial management professionals.
"Ann Arbor has long been a hub for innovation, and NWP's new office here fits right in with that culture," Ron Reed, executive vice president of NWP and Michigan native, said in a statement.
"SmartSource enables the multi-family industry to scale their operations to new levels by taking advantage of our highly qualified operations, IT and finance resources."
Tom Gritter, managing director of commercial real estate at McKinley said some NWP employees simply will be rolled over from McKinley's previous accounting operations, while others will be new employees. All 25 staff members already have been hired according to NWP spokeswoman Megan Lacy.