Posted on
Tue, Nov 27, 2012 : 5:58 a.m.
McKinley purchases apartment complex on Ann Arbor's north side, plans for improvements
By Lizzy Alfs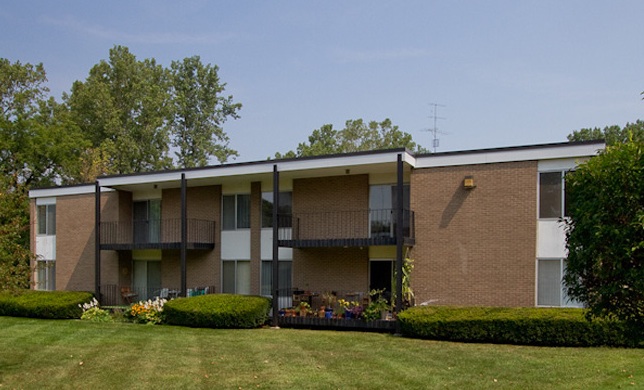 Photo from fhmanagement.com
McKinley Inc
., citing the strong apartment rental market on the north side of
Ann Arbor
, just finalized its second apartment complex purchase of the year near Plymouth Road.
In a deal that closed on Monday afternoon, Ann Arbor-based McKinley acquired the 216-unit Traver Knoll apartment complex, located on Barton Drive off Plymouth Road.
"The north side communities of Ann Arbor are the best performing communities in our entire Midwest U.S. portfolio and this acquisition will help further solidify our position in the marketplace," said McKinley CEO Albert Berriz in a statement.
With the acquisition, McKinley now owns more than 5,300 units in the region. The company was founded in Ann Arbor in 1968, and it now owns and manages multifamily and commercial real estate properties in 25 states.
In an interview with AnnArbor.com, Berriz called the multifamily housing market in Ann Arbor "quite compelling."
"We can be using those dollars to invest anywhere that we operate, but Ann Arbor really commands some of the strongest rents in the Midwest. There's no question…that's why we're electing to expand in our own town," he said.
Berriz declined to name the purchase price of the Traver Knoll complex, but he said McKinley plans to invest in improvements on the interior of the building, amenities and landscaping.
"I think it's currently inconsistent with the quality of our other complexes," he said.
The property, which is registered to West Bloomfield-based First Holding Management Company, was assessed at $6.08 million this taxable year, making its estimated market value about double that. The property sold in 2005 for about $13.07 million.
In May, McKinley purchased the Ironwood Place Apartments on Leslie Circle, just northeast of Traver Knoll, and integrated it with the neighboring Traver Ridge Apartments.
Berriz said the apartment market on the north side of Ann Arbor is strong for several reasons: University of Michigan's North Campus, the North Campus Research Complex, and the job growth at companies like Domino's Pizza and Con-way.
"If you look at what's happening in terms of the impact of the university, it is really felt around the north side," he said.
"There has been a significant amount of job growth…companies have hired a significant amount of workers in the tech support area," he continued.
Berriz said the occupancy level at Traver Knoll is in the high 90 percent range. Rental rates range from about $500 per bed to $865, according to marketing materials.
Lizzy Alfs is a business reporter for AnnArbor.com. Reach her at 734-623-2584 or email her at lizzyalfs@annarbor.com. Follow her on Twitter at http://twitter.com/lizzyalfs.