Posted on
Mon, Jun 25, 2012 : 5:45 a.m.
MEDC announces $250,000 loan support for manufacturer Hines Industries Inc.
By Ben Freed
Hines Industries Inc. of Ann Arbor is expanding and hiring new employees after receiving funding through a Collateral Support Program run by the Michigan Economic Development Corp.
The program, established in early 2010 to help Michigan businesses get loans during the recession, helps companies whose assets were devalued in the recession to acquire funding to grow their business.
"For a manufacturer like Hines, the bank will only let them borrow up to 80 percent of the value of their assets," said Paul Brown, vice president of capital services at the MEDC. "So when the values dropped after the real estate bubble burst, these companies that were still doing great business were not able to get financing."
Hines Industries designs and produces balancing equipment for a wide range of industries, including the automotive, aerospace and medical device sectors. It received $250,000 for working capital tied specifically to a new agreement with Chrysler, according to a statement released by the MEDC.
Any piece of machinery that spins quickly (such as a fan, pully, motor or crank shaft) must be perfectly balanced in order to prevent vibrations during the rotation. If there is even slightly more weight on one side of the disc or cylinder, centrifical force (the force pulling weight away from the center of the circle) will pull at the device unevenly. This causes the vibrations that can lead to a decrease in the quality or lifespan of the product.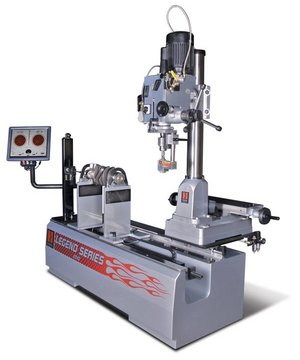 Courtesy Hines Industries Facebook Page
"Even a little bit of grease from your fingers can be enough weight to throw certain pieces off balance,"
Dawn Hines
, CEO of Hines Industries, said. "We have a deep and long experience in examining the parts and correcting any unbalances."
While balancing devices is a niche market, Hines has become an industry leader and was looking to expand when it applied for collateral support. Hines said that engineering and manufacturing companies need a lot of working capital in order to finance the development and production of larger projects before they can reap the benefits.
"This loan that we were able to acquire with the MEDC's help has enabled us to compete for larger and more complex products with larger companies," Hines said.
"It has also enabled us to hire some of the talent we need to grow the business. We've already hired five new engineers and we are looking to grow even further. We are part of hiring back Michigan talent, and that's really exciting."
So far, 96 companies have taken advantage of the MEDC's Collateral Support and Low Cost Participation loan programs. The programs started out with state resources and were noticed by the White House. Brown was invited to testify before Congress, leading to the creation of a $1.5 billion national program created by the U.S. Treasury to fund similar programs.
Since the creation of that fund, Michigan has received an $80 million grant to operate the programs that "stretch" banks' abilities to make large loans.
MEDC President and CEO Michael Finney said in a statement that the Loan Participation program will allow these companies to move forward, which will in turn bring jobs to the state.
"Today's loans are a clear example of economic gardening in action, leveraging state resources to foster private sector solutions for businesses of all sizes and industry sectors," he said in the statement.
The program works by injecting capital into banks in the form of accounts opened by the MEDC that also function to close the "collateral gap" that companies and banks have when they attempt to make large loans with low-value assets as collateral.
The rules of the program stipulate that the MEDC account can be no more than 49.9 percent of the collateral and cannot exceed $5 million, said Brown.
"We deposit the money as an account at the bank making the loan. We get interest on the money in the account, and they can use that money to re-invest and make other loans," he said.
"This is what many people think TARP should have looked like — an injection of capital tied to real loan-making. The bank now has a fully collateralized loan and increased deposits. In the case of default, the bank would liquidate the borrower's collateral and then seize whatever portion of our deposit they needed."
Brown was quick to point out that to date there have been no defaults in the program.
"Michigan businesses have the opportunity to grow; we're just trying to assist them in having the capital to do so," he said. "It's a win-win."
Ben Freed covers business for AnnArbor.com. Reach him at 734-623-2528 or email him at benfreed@annarbor.com. Follow him on twitter @BFreedinA2