Posted on
Thu, Dec 22, 2011 : 2:47 p.m.
Meijer hopes to sell outlot properties at Ann Arbor-Saline Road store for development
By Nathan Bomey
Michigan-based grocery store chain Meijer hopes to sell two outlots at its Ann Arbor-Saline Road store, opening the door for developers or retailers interested in commercial real estate in one of the area's most high-trafficked retail corridors.
The retailer hopes to sell two side-by-side plots — a 2.69-acre parcel and a 3.23-acre parcel — fronting Ann Arbor-Saline Road. Currently, a berm separates the Meijer parking lot from the road.
Meijer real estate manager Roger DeHoek told AnnArbor.com today that the company decided to put the property onto the market after Pittsfield Township recently completed the redesign of its master plan, which favors mixed-use development at that site.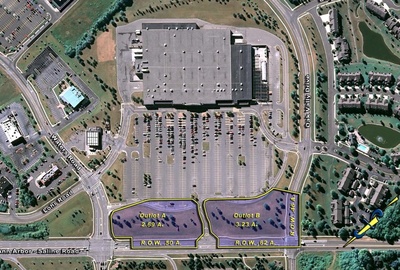 Photo courtesy of Meijer
"The intent of any kind of development out there would be something that would complement the brand new master plan of Pittsfield Township," DeHoek said. "We're basically trying to figure out a way to get a mixed-use development accomplished there."
The northern-most plot sits at the corner of Ann Arbor-Saline and Lohr Road. It's a highly trafficked intersection that leads to a shopping center with a Target on the west side of Ann Arbor-Saline and a shopping complex with a Best Buy, Kohl's and Dick's Sporting Goods on the east side.
The southern-most plot sits at the corner of Ann Arbor-Saline and Oak Valley Drive.
"We think the market has picked up from where it was a few years ago when there was nothing going on," DeHoek said. "We feel that the Ann Arbor market as a whole — and specifically Pittsfield Township — remains quite strong. We feel confident, if planned right, we can get something done there."
The retailer is also still marketing a 1.83-acre plot of property on Zeeb Road side of its store on Jackson Road in Scio Township. That property — which was briefly under contract to be sold to a bank until the deal collapsed — has been on the market for some time.
Contact AnnArbor.com's Nathan Bomey at (734) 623-2587 or nathanbomey@annarbor.com. You can also follow him on Twitter or subscribe to AnnArbor.com's newsletters.