Posted on
Wed, Jul 10, 2013 : 2:59 p.m.
Carrabba's, LongHorn Steakhouse sign leases for project proposed on Ann Arbor-Saline Road
By Lizzy Alfs

Giffels-Webster
National restaurant chains
Carrabba's Italian Grill
and
LongHorn Steakhouse
could join the Washtenaw County dining scene if plans are approved for a six-building development on Ann Arbor-Saline Road.
Southfield-based Versa Development submitted a preliminary site plan to Pittsfield Township for Pittsfield Place: a six-building retail and restaurant development on the property fronting the Meijer store at 3145 Ann Arbor-Saline Road.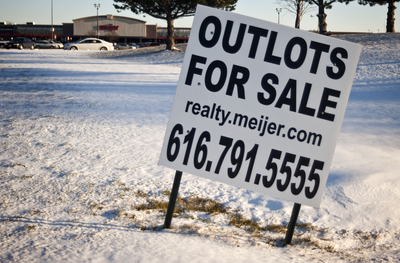 Joseph Tobianski | AnnArbor.com
Pittsfield Township's Planning Commission will consider the plans at its 6:30 p.m. meeting on Thursday, July 11.
If approved, one building would be a Carrabba's Italian Grill and one would be a LongHorn Steakhouse, according to township plans. It would be the first Washtenaw County location for both national restaurant chains.
"We do have deals with them," said Michael Lippitt of Landmark Commercial Real Estate Services, the broker marketing the Meijer outlots for lease. "We have three other leases out right now and a whole variety of negotiations going on."
Several parcels fronting the Meijer store were put on the market last year after the township completed a redesign of its master plan. The redesign favors mixed-use development at the site.
Lippitt said Versa is under contract to purchase the properties from Meijer. A representative with Versa did not return requests for comment.
The development — which would transform the stretch of Ann Arbor-Saline Road from Oak Valley Drive to Lohr Road — would be constructed on an existing berm that separates Meijer from Ann Arbor-Saline Road.
It would consist of full-service restaurant buildings and retail/fast casual restaurant buildings fronting Ann Arbor-Saline Road, with an access drive separating the project into a northern section and a southern section. The Carrabba's and LongHorn Steakhouse buildings would be separated by the access drive.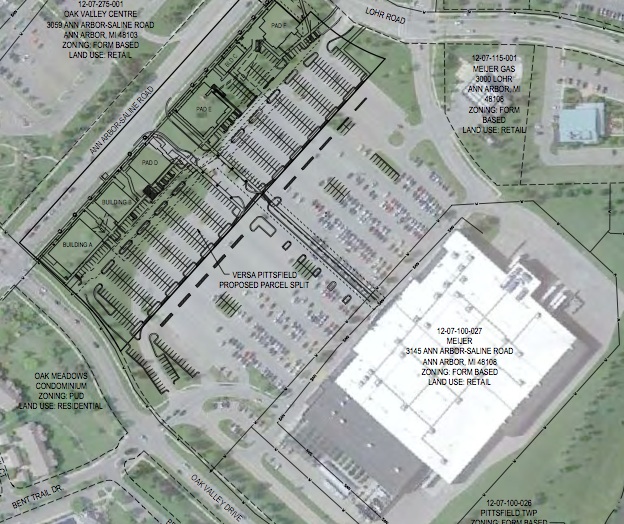 Giffels-Webster
"The development of an entire Meijer store frontage is unprecedented," Landmark's marketing materials say. "The availability of this type of retail/outlot project in Ann Arbor is equally rare."
Plans include 444 parking spaces located behind the buildings, and an outdoor seating area at the Lohr Road intersection.
According to a site plan review conducted by a Pittsfield Township planning consultant, the project would turn an "underutilized area into a viable commercial development." Before it can be approved, Versa needs to make a number of modifications to the plans, the report says.
Comments in the report include:
Add architectural interest and details to trash enclosure walls
Provide architectural details and entrances accessible from Ann Arbor-Saline Road
Amend two of the buildings to meet a 26-foot building height requirement
Create a strong visual presence on Ann Arbor-Saline Road
Amend development landscape plan
Provide a landscape island or peninsula every 10 parking spaces or seek waiver from planning commission
Incorporate better pedestrian circulation
Pittsfield Township Supervisor Mandy Grewal said a goal of the township's master plan is to eliminate berms and big parking lots in front of shopping centers, while creating pedestrian-friendly environments.
"It is definitely one of the goals of our master plan to use existing spaces and to use them more densely, so this is definitely moving in the right direction," she said.

Giffels-Webster
The Ann Arbor-Saline and Lohr Road intersection is one of the most highly trafficked in the area. It leads to the Target shopping center on the west side of Ann Arbor-Saline and a shopping complex with Best Buy, Kohl's, Big Lots and Dick's Sporting Goods on the east side.
Just across the street from Meijer, developers have targeted a vacant plot of land behind Chuck E. Cheese's for a multi-family residential project. The owners of the Target shopping center intend to build an apartment complex on the site.
Lippitt said tenant interest in the Meijer outlot properties has been strong, and he continues to receive inquiries from "name brand" businesses. In addition to Carrabba's and LongHorn Steakhouse, marketing materials list Einstein Bros. Bagels, Rx Optical, Halo Burger and Aspen Dental as possible tenants, but those leases are not confirmed.
"There's such a good dynamic at that location," he said. "There's great co-tenancy, and really strong retailer volumes in the area."
Lizzy Alfs is a business reporter for AnnArbor.com. Reach her at 734-623-2584 or email her at lizzyalfs@annarbor.com. Follow her on Twitter at http://twitter.com/lizzyalfs.