Posted on
Mon, Dec 13, 2010 : 2:46 p.m.
Menards wants to build home improvement store on Carpenter Road in Pittsfield Township
By Paula Gardner
Menard Inc., a family-owned Midwest home improvement chain, wants to build a store on Carpenter Road in Pittsfield Township.
Menard recently filed a rezoning petition with the township, the first step toward building a 162,000-square-foot store on the property at 4700 Carpenter Road.
The rezoning request is now one of two made by large retailers seeking to enter the greater Ann Arbor market by building stores in the township: Costco also has a deal to build a store — proposed to be about 140,000 square feet — if a township rezoning request is approved.
The Costco request is on hold until the township concludes its master plan revisions. Township Supervisor Mandy Grewal has said that process should be finalized by spring 2011.
The master plan process may not impact Menards' rezoning request, since a public hearing will be scheduled soon.
"The Planning Commission is going to take a look at it," Supervisor Mandy Grewal said this afternoon.
The Menards location is between Michigan Avenue and the I-94 overpass, with visibility from US-23. The land is owned by Ashley Capital, which in 2006 considered building a 585,000-square-foot distribution center that would have added 500 jobs.
"We've been studying the demographics of the greater Ann Arbor area for a long time and trying to determine the best place to build a store," said Tom O'Neil of the Menard Inc. properties division.
The location is about a half-mile from the intersection of Carpenter and Ellsworth roads, where both Lowe's and Home Depot operate stores.
That doesn't affect the effort by Menards to build a store nearby, O'Neil said.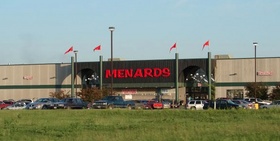 Source: Facebook
"The location of the property that we target needs to be the best for us," O'Neil said.
He added the store's larger footprint "is one of the things that we do to differentiate ourselves."
Menard Inc., based in Eau Claire, Wisc., operates more than 250 stores in the Midwest and employs about 40,000 people. Its home improvement products are complemented by a full-service lumber yard.
According to online reports, the company's revenue was estimated at $7.9 billion in 2009. The company is opening 8-10 stores in 2011, O'Neil said, including one in Michigan in Davison Township near Flint.
After Ashley Capital's efforts stalled — key components of supply chain management suffered along with manufacturers and retailers during the economic downtown — the property was marketed for sale or lease. At the time, Ashley Capital operated 14 million square feet of that property type.
The property has been listed as Ann Arbor Corporate Center with a team from Signature Associates. Menard Inc. now has it under contract for purchase.
Susan Harvey, vice president of Ashley Capital, was not available for comment today.
Menards needs a rezoning from the township to move forward on the store site. It's zoned for limited industrial use, but needs to be switched to general commercial for plans to proceed.
O'Neil said he has not yet had a response from the township regarding the Menard rezoning request.
Menards operates 20 stores in Michigan. It advertises itself as a low-price leader in the home improvement retail sector.
Paula Gardner is Business News Director of AnnArbor.com. Contact her at 734-623-2586 or by email. Sign up for the weekly Business Review newsletter, distributed every Thursday, here.