Posted on
Mon, Oct 29, 2012 : 5:57 a.m.
Menlo Innovations still growing in underground Ann Arbor 'software factory'
By Ben Freed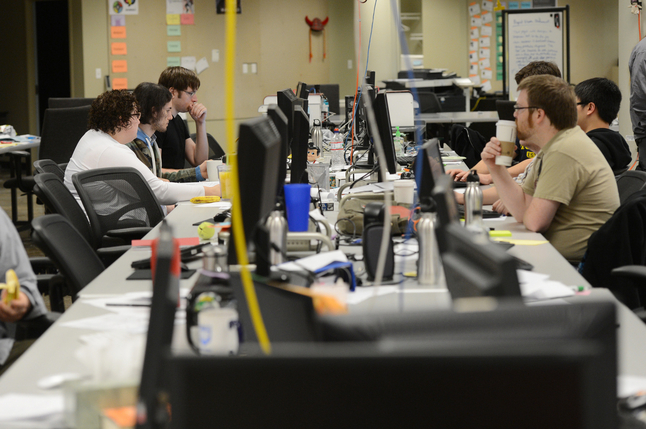 Melanie Maxwell | AnnArbor.com
When
Menlo Innovations
left its space in Kerrytown Market six months ago to
move into the Offices at Liberty Square
, the company decided it wanted to make the nearly 17,000 square feet into a "software factory."
The new space follows Menlo's "flexible workplace" philosophy, and is filled with lightweight tables, electricity and Ethernet connectivity cords that fall from the ceiling, and people working collaboratively in pairs and teams at computers that can be moved to a new location whenever the team needs a change of scenery.
"I don't even get to choose where I sit," co-founder and chief executive officer Rich Sheridan said.
"The corner office is over here [in the middle of the room] right now because that's where the team put me. There's no real corner office for the CEO and I love the energy in the room you feel from just being here in the middle of it."
Sheridan's spot in the middle of the open floor plan might not give him great views out of a window (the space is underground and doesn't have any), but it does afford him the opportunity to watch his team at work.
The team Sheridan watches has continued to expand. Chief financial officer and co-founder Robert Simms said in an email that after tripling its available space with the move, Menlo has added three employees, raising its total to 21 in September. Average monthly revenues have gone up 23 percent, and monthly profits have risen 43 percent since moving into the former Tally Hall building, Simms said.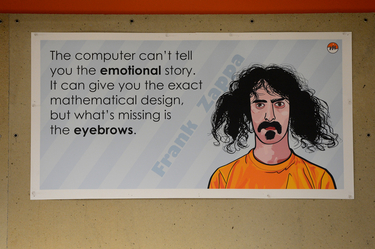 Melanie Maxwell | AnnArbor.com
Menlo Innovations designs software solutions for companies, and has made usability and user experience a central focus of its creations. "High tech anthropologists" look at every program that is created to ensure that it fits the company's standard for design.
"[I think] there's a trend toward design [in the tech world]," Sheridan said.
"If you think about where high tech has gone, in the old days we were happy just to get stuff to work. Now we all carry around a computer more capable than all the computing capacity in the world when I was in college."
In addition to his own company, from his vantage point in the middle of the "office," Sheridan can look through a glass wall and see TechArb, the University of Michigan's student startup accelerator. Moses Lee, assistant director of student ventures at the accelerator, said the thin separation between the spaces is invaluable for students.
"We're trying to give students real world experience and contact with successful entrepreneurs," he said.
"It's amazing that they're in this space with a glass wall that you can look through so they can literally see right through to look at practitioners of what they are trying to do."
Menlo did not follow the same path that many other tech startups use to find early success. Rather than raising venture capital, the three co-founders, Sheridan, Simms, and chief operating officer James Goebel each wrote a check and the company "bootstrapped" its way from there.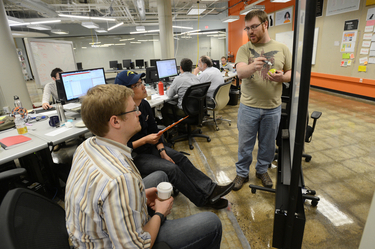 Melanie Maxwell | AnnArbor.com
"We never wrote another check and we never took an outside investment," Sheridan said.
"We crawled along the first few months and years, with enough to keep ourselves in our houses. To raise money we'd have had to spend all of our time explaining to people why we're doing what we're doing. We decided to grow more slowly and do it the way we want to."
Menlo's unique history and culture have led to a side-industry of "factory tours" and speaking engagements that have helped expand the reach of the company. Sheridan said there is at least one tour a day of the space, and on Menlo's website interested visitors can sign up for workshops that range from the free one hour tour to a $1,500 five day intensive titled "Dive into the Menlo Way."
Menlo's old space in Kerrytown, its first "open office" experiement, will be taken over in November by Internet marketing firm Pure Visibility. Linda Girard, Pure Visibility's president, said she was inspired by Menlo's offices and wanted to use the collaborative space idea to inspire growth and change in her company.
Ben Freed covers business for AnnArbor.com. You can sign up here to receive Business Review updates every week. Reach out to Ben at 734-623-2528 or email him at benfreed@annarbor.com. Follow him on twitter @BFreedinA2