Posted on
Thu, Apr 21, 2011 : 11:25 a.m.
Michael Finney defends emergency manager law in response to Jesse Jackson's criticism
By Nathan Bomey
The debate over Michigan's new emergency manager law escalated this morning after the Rev. Jesse Jackson continued his campaign against the law, and Michigan Economic Development Corp. CEO Michael Finney responded by defending it at the same event.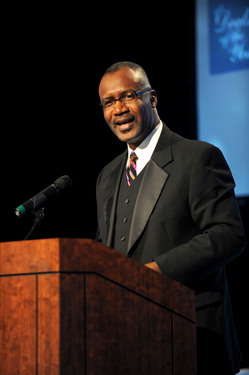 File photo | AnnArbor.com
Finney, former CEO of economic development group
Ann Arbor SPARK
, and Jackson were attending a breakfast event this morning at the
Detroit Athletic Club
. Jackson said the law is "democracy being suspended," and Finney "shot right back" by defending the law,
the Detroit News reported
.
The new law gives additional powers to emergency managers appointed by the state to help distressed governmental entities avoid financial disaster. Under extreme circumstances, the managers can now dissolve governmental entities, ax union contracts and take powers away from elected officials if the municipality or school district is on a path toward insolvency.
Finney said the law would "empower someone" to make tough decisions.
"If we don't solve that our state is on the same path as Detroit," Finney said.
Jackson has been touring the state in a bid to generate opposition to the new law. In Benton Harbor Wednesday, he reportedly criticized a decision by that distressed city's emergency manager to suspend most rights of locally elected officials.
In Ann Arbor on Monday, Jackson criticized Michigan residents for generating "no resistance" to Gov. Rick Snyder's policies, which, he said, are "decimating democracy."
"We don't like one-man rule, except in Benton Harbor," Jackson said in Ann Arbor. "The government in Michigan is training one-man rule. We are setting up here what we are fighting there. Your vote for elected officials doesn't count, and that is decimating democracy."
Contact AnnArbor.com's Nathan Bomey at (734) 623-2587 or nathanbomey@annarbor.com. You can also follow him on Twitter or subscribe to AnnArbor.com's newsletters.