Posted on
Mon, Sep 13, 2010 : 6:02 a.m.
Ann Arbor SPARK's Michael Finney: Next CEO of Michigan Economic Development Corp.?
By Nathan Bomey
That Rick Snyder personally recruited Michael Finney to become the first CEO of Ann Arbor SPARK in 2005 is a history lesson that may offer a glimpse into Michigan's economic development future.
Speculation is growing about Finney's possible role in Snyder's administration if the Republican gubernatorial candidate holds on to a huge lead to defeat Lansing Mayor and Democratic candidate Virg Bernero in the Nov. 2 election.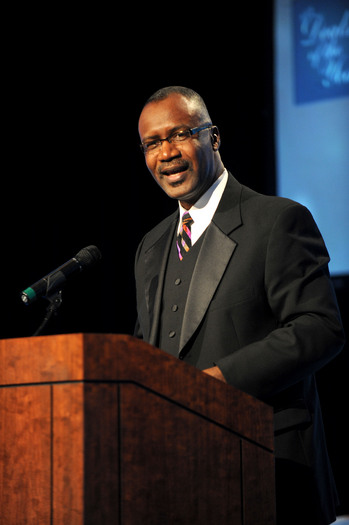 File photo | AnnArbor.com
If history repeats itself, Snyder, who is effusive in his praise of Finney, may recruit Finney once again - this time for a bigger job: CEO of the
Michigan Economic Development Corp.
Members of Ann Arbor SPARK's executive committee and board of directors said they're preparing for the possibility that Finney may be recruited to lead MEDC.
However, they also say they had no knowledge that any such conversations had occurred.
SPARK runs several programs offering small-scale financing and investments for startup companies, helps connect skilled workers to local companies that are hiring, and helps convince local companies to grow and outside companies to locate here.
"That record sort of speaks for itself. If SPARK lost Mike, we would sorely miss him," said Milliken Realty owner Bill Milliken, a member of SPARK's executive committee and former chairman of SPARK's predecessor, the Washtenaw Development Council. "But those are probably the very qualities that a Snyder administration would be looking for."
Finney was a vice president of MEDC when he left in 2002 to lead an economic development group in Rochester, N.Y. Snyder, who got to know Finney as chairman of MEDC's board from 1999 to 2001, convinced Finney to return to Michigan in 2005 to lead SPARK.
If Finney wants the MEDC job, he's not letting on.
"I'm committed to what we're doing" at SPARK, he told AnnArbor.com. "I want to make sure we continue to do well. Rick has to decide what he wants to do in terms of his economic development leadership and team."
Snyder, for his part, said it's premature to discuss potential candidates for MEDC. But he's also said publicly that he's already considering what his administration would look like so that he can be effective right away if he wins the governor's seat.
On the campaign trail, Snyder often mentions his experience launching SPARK as an example of his economic development leadership.

File photo | AnnArbor.com
Washtenaw County's unemployment rate in July
stood at 10 percent
, its highest in 13 months but still fifth lowest among the state's 83 counties.
"Mike's just been a fabulous leader at SPARK," Snyder told AnnArbor.com. "I think he's a great role model for economic development leadership throughout the state."
If Snyder wants Finney, he might have to convince him to take a pay cut. Finney made nearly $259,000 in total compensation in 2008, the latest year in which tax records were available. The MEDC job pays $200,000, according to documents recently obtained by the Mackinac Center for Public Policy.
Finney has drawn criticism from some community members who believe he's overpaid and question SPARK's effectiveness. SPARK claims its efforts helped convince local businesses to launch expansions from 2006 to 2009 with a promise of hiring nearly 9,200 new employees. Those figures are difficult to authenticate.
A more concrete reflection of SPARK's impact: The 4,200 subscribers to its weekly job postings e-mail newsletter, the 273 startup companies that have used its business incubators and the $11.2 million SPARK has distributed in investments and microloans to 84 companies since 2006.

Finney is generally held in high regard among Ann Arbor's business community for fostering an entrepreneurial atmosphere and offering other services to startup companies and unemployed workers.
"I think overall SPARK's been phenomenal," said Larry Freed, CEO of Ann Arbor-based ForeSee Results, which has grown to 180 employees since it was founded in 2001. "It's hard to find a downside to it all. The people in it just do a great job overall."
Finney, who has donated to Snyder's campaign, said he is supporting Snyder in the race but has no plans to issue an announcement officially endorsing him. SPARK is also not issuing an official endorsement.
It's still far from a foregone conclusion that Finney will land at MEDC. For one, political experts expect Snyder's gubernatorial lead to narrow before the general election, and Bernero overcame a similar deficit in the primary to win the Democratic nomination.
For his part, Bernero has high praise for the CEO of the Lansing Economic Development Corp., Bob Trezise, also a former MEDC executive.
"I'll be working with economic development professionals like Bob Trezise, one of the best in the state, to say the particulars of how the (MEDC) will be structured," Bernero said. "Undoubtedly it will."
Trezise, asked whether he's interested, laughed off the question and said it "would be extremely presumptuous of me" to address speculation.
"I have a huge job here," he said. "I love the city."
Contact AnnArbor.com's Nathan Bomey at (734) 623-2587 or nathanbomey@annarbor.com. You can also follow him on Twitter or subscribe to AnnArbor.com's newsletters.