Posted on
Thu, Mar 29, 2012 : 2:55 p.m.
Michael Finney: Solving Michigan's 'talent disconnect' is critical to state's growth
By Lizzy Alfs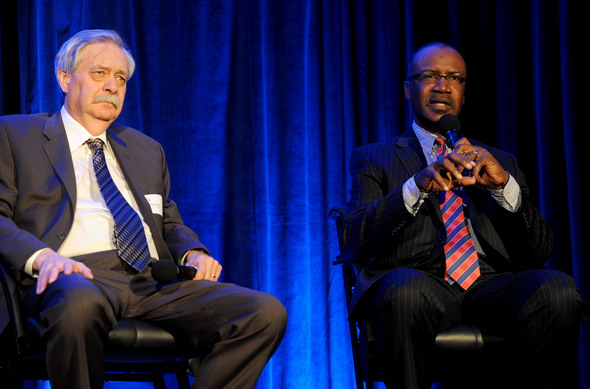 Angela J. Cesere | AnnArbor.com
(Related story: Exclusive economic forecast: Ann Arbor area to add 11,000 jobs over 3-year stretch
)
Michigan needs to provide workers with the skills they need to match the state's 76,000 available job openings -- and that might start with the state's K-12 education system.
That's a key message from Michigan Economic Development Corp. CEO Michael Finney, who outlined some of the state's goals Thursday afternoon at the Washtenaw Economic Outlook Luncheon hosted by the Washtenaw Economic Club and AnnArbor.com's Business Review.
Finney, a former CEO of economic development group Ann Arbor SPARK, said he's "confident and excited" about a Washtenaw County economic forecast released today from University of Michigan economists, which projects more than 11,000 new jobs for the county in 2012, 2013 and 2014. But Finney said there is still a lot of work to do to train the state's youth and keep talent here.
He said there's a "talent disconnect" where job openings are going unfilled because workers don't have the necessary skills to fill them.
The problem, he says, stems partly from the state's K-12 education system and community colleges, rather than the state's universities.
"We simply are not getting the kind of basic education that our kids need," he said.
He added: "When I was in high school, you had a choice of two educational tracks you could get on: a tradesperson and college prep. We've gotten away from that as a country and a state and maybe it's time for us to reconsider vocational education as a serious way for some of our young people to build a future for themselves."
Finney said it's then critical to keep the talent in the state - something the MEDC has worked to do with programs like Shifting Gears, which provides retraining to big-company workers.
"We'll continue to spend a lot of our time and effort on solving this," he said.
Finney said a proposed new MEDC program called Community Ventures could help provide opportunities to the structurally unemployed. That program would aim to connect convicted criminals, veterans or people with circumstances that make it difficult to go to work on a daily basis to learn new skills.
"We are designing a program that will actually create real jobs that are living wage jobs for people who fit this definition," he said. "We found employers that are willing to make jobs available and organizations that are ready, willing and able to provide the kinds of services necessary."
Finney said another way to help Michigan's economy could involve encouraging immigrants with an advanced education and high-tech skills to move to and invest in Michigan.
George Fulton, one of two University of Michigan economists who conducted the forecast, said he considers this essential as the state faces a potential labor shortage in the coming years.
"We're looking at a very significant labor shortage problem down the road and the question is, where do you get workers?" he said. "I think a strategy of being friendly to international migrants is really going to pay off down the road."
Lizzy Alfs is a business reporter for AnnArbor.com. Reach her at 734-623-2584 or email her at lizzyalfs@annarbor.com. Follow her on Twitter at http://twitter.com/lizzyalfs.