Posted on
Mon, Dec 31, 2012 : 5:58 a.m.
Michael Kors and 4 other luxury brand stores to join Briarwood Mall in 2013
By Angela Smith
Briarwood Mall is negotiating with five new tenants for upscale retail spaces in the shopping mall, with stores set to open in the spring and summer of 2013.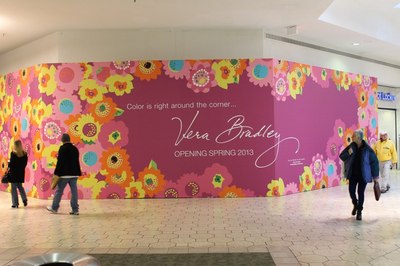 photo via Briarwood Facebook account.
Vera Bradley
has begun construction, and will be located across from
Kay Jewelers
, near
Sears
.
The 2,991 square-foot space was previously Vanity, and will be opening as Vera Bradley in the spring.
The Vera Bradley brand has become a staple for gift shops and an abundant selection can already be found at stores like Von Maur and Hallmark. The brand's website describes its focus as stylish quilted cotton luggage, handbags and accessories that combine smart product designs with distinctive and colorful fabrics and trims.
Michael Kors will also be opening business in Ann Arbor this spring.
The luxury lifestyle brand has three other Michigan locations: in Twelve Oaks, The Somerset Collection and the Great Lakes Crossing Outlets.
The Briarwood store will be 2,147 square feet, and will open in the spring. The Michael Kors brand is a favorite amongst celebrities and stylists, including first lady Michelle Obama.
Meanwhile, Soma Intimates, a boutique that offers an exclusive collection of women's lingerie, will open its first Ann Arbor location in spring 2013. The Briarwood Mall retail shop will be 1,967 square feet.
Soma Intimates offers a range of boutique lingerie, from luxury to comfortable styles. The brand has over 190 stores, and this will be its third in Michigan.
The U.K.-based brand Lush Fresh Handmade Cosmetics will be coming to Ann Arbor in June of 2013.
Lush offers an array of "bath bombs" and other scented cosmetics for skin, hair, bath and body. All products in the line are made of fresh organic fruits, vegetables and essential oils. The store in Briarwood will be 765 square feet. Other local Lush stores are in Somerset Collection, Twelve Oaks and Partridge Creek Mall in Clinton Township.
Finally, Yankee Candle will open in July 2013.
With over 150 unique scents, Yankee Candle claims to be the largest American manufacturer of scented candles. The Briarwood store will occupy 981 square feet. The Yankee Candle website lists eight other authorized retailers in the Ann Arbor area.
Denise Murray, the mall's director of marketing and business development, called the upscale new shops exciting additions for the first part of 2013.
"(It) is going to be a very exciting year for Briarwood Mall," she said. "Many of the visions that we have been developing for years are coming together, and the retail mix that will be unfolding will certainly add to the shopping experience that is available in Ann Arbor."
Briarwood is Ann Arbor's largest shopping center at 1.1 million square feet, and also Ann Arbor's largest taxpayer, with a taxable value reported at $38.7 million in 2012's first quarter.