Posted on
Fri, Nov 4, 2011 : 10:15 p.m.
Adaptive Materials' Michelle and Aaron Crumm receive Executive of the Year honors
By Nathan Bomey
See also: AnnArbor.com's Business Review reveals winners of 2011 Deals of the Year awards
In May 2009, an iRobot Scout unmanned ground vehicle rumbled through a rugged 40-mile military course at a constant speed of 3.1 mph, powered only by a 150-watt hybrid fuel cell battery system manufactured by Pittsfield Township-based Adaptive Materials.
Using three 8-ounce canisters of propane gas, the Adaptive Materials system produced results that "surpassed those of battery-only" tests "under similar conditions," according to an October 2011 report by the U.S. Defense Logistics Agency.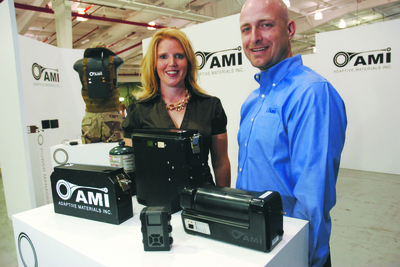 File photo | AnnArbor.com
With those words, Adaptive Materials' technology earned the tacit endorsement of U.S. military officials — a key win for an advanced manufacturing company that got its start in the And Arbor about a decade ago.
About 19 months after that test, Adaptive Materials was sold for $23 million to United Kingdom-based Ultra Electronics Holdings on Dec. 31, 2010. Since then, Ultra has since plans to invest nearly $3 million in the company's South State Road manufacturing and engineering operation.
Led by husband-and-wife co-founders Aaron Crumm and Michelle Crumm, Adaptive Materials took a unique path from inception to commercialization and its acquisition.
Without accepting outside equity investment from a venture capital firm, the company grew strategically and methodically, advancing its technology and securing more than $45 million in government contracts and research deals.
Michelle and Aaron Crumm were honored Friday night with the Executive of the Year award at AnnArbor.com Business Review's 2011 Deals of the Year ceremony.
For the Crumms, leading Adaptive Materials required some adapting of their own.
For five years, Michelle was an accountant for Battle Creek-based cereal maker Kellogg Co. Meanwhile Aaron was a doctoral student in U-M's engineering program. When he started developing innovative fuel cell technology, Aaron identified a possible business opportunity. They had never started a company before. But after a market analysis, they launched Adaptive Materials.
Over the last decade, the company has been engineering and improving its fuel cell technology, which can be used to replace batteries on the battlefield or in commercial applications like the recreation vehicle market.
Adaptive Materials' proprietary technology is powered using commercially available propane fuel — which can be obtained at standard retail stores throughout the world, and even in battlefield scenarios.
That simple element of the company's complex technology has proven to be attractive to the U.S. military, the firm's largest customer.
After the company's sale to Ultra Electronics, Aaron Crumm was named president and Michelle Crumm resigned. She's since served as an executive coaching consultant, although she's not opposed to joining another local startup at some point.
Perhaps their greatest achievement is that Ultra Electronics chose to maintain Adaptive Materials' 47,000-square-foot operation and invest in new manufacturing capacity. The company has added about 10 employees since the deal for a total of about 65.
"We've committed to keeping the business here because of the people," said Phil Evans, Ultra's divisional managing director for aircraft and vehicle systems, in a recent interview. "We're not a capital-intensive business. We're a people-intensive business. There are great people here and therefore that's where we'll build the business."
That people-intensive business reflects the Crumms' innovative leadership and resolve to build a company that's helping rebuild the Michigan economy.
Contact AnnArbor.com's Nathan Bomey at (734) 623-2587 or nathanbomey@annarbor.com. You can also follow him on Twitter or subscribe to AnnArbor.com's newsletters.