Posted on
Fri, Oct 14, 2011 : 5:59 a.m.
Michigan's next big job opportunity: growing agricultural industry?
By Nathan Bomey
Joseph Tobianski I AnnArbor.com
(
Editor's note: This story was Part 1 in a 2-part series on Michigan's agricultural industry. See Part 2 here
.)
When a million-dollar machine started milking his dairy cows, measuring output and spitting out data analyzing daily production trends in the early 1990s, Manchester farmer Earl Horning knew farming had changed.
He's still waiting for the agricultural industry — Michigan's fastest growing major industry over the last decade — to shed its image as a bad place to work.
Joseph Tobianski I AnnArbor.com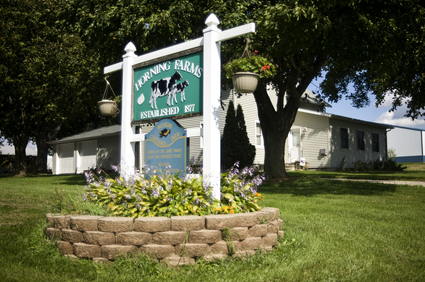 Joseph Tobianski I AnnArbor.com
But if there's one thing that might change that perception, it's this: The 1-million-person
Michigan "agri-food" industry
— which includes farmers, food processors, equipment manufacturers, specialists and local food sellers — has quietly become a major job creator for the state of Michigan.
"You don't have to be a farmer to be involved in the industry," Horning said during a recent interview at his sixth-generation, 650-acre farm on Pleasant Lake Road. "The agricultural community itself has lots of opportunities, all the way from manual labor to the highest tech programs."
That's a message Michigan's agri-food industry is desperate to communicate because the industry is surging as farmers benefit from a global uptick in food prices and as Michigan consumers buy more local products.
But the industry's growth is threatened by a failure to recruit young talent, according to a new report by the Michigan Agri-Business Association.
Michigan's 56,014 farmers sold $5.75 billion in products in 2007, up 52.5 percent from 2002, according to the U.S. Department of Agriculture's 2007 farm census. Much of that growth is driven by foreign markets as exports surge — a trend that's likely to continue after Congress on Wednesday passed free trade agreements with South Korea, Colombia and Panama.
But a Michigan Department of Agriculture and Rural Development study describes the broader agri-food industry as much larger — about $71.3 billion in direct and indirect economic activity, reflecting the trickle-down effect of a healthy agricultural community, which affects grocers, restaurants, local sellers, farm contractors, food processors and others.
Although agricultural subsidies are a divisive political issue in Washington, their role in Michigan's farm industry is declining. Michigan farmers got $118.9 million in government subsidies in 2007, down 18 percent from 2002, according to the Michigan Department of Agriculture and Rural Development.
To be sure, many jobs on the farm still involve long hours and low pay. Salaries vary wildly based on the position.
Farmworkers who handle livestock and ranch animals are paid average salaries of $23,980, according to the Michigan Department of Technology, Management and Budget. Farm laborers are paid an average of $22,510.
But other industry workers are paid more, like agricultural inspectors ($53,640), farm purchasing agents ($64,750), agricultural engineers ($72,720) and farm managers ($69,720).
Washtenaw County — generally known to the rest of the state as a source of technological innovation because of the University of Michigan and a burgeoning entrepreneurial economy — also has a vibrant agricultural sector.
The county's 1,300 farms sold $73.2 million in products in 2007, up 34 percent from 2002, ranking 29th among Michigan's 83 counties. Washtenaw has the most sheep, lamb and horse operations.
The surge in Michigan's agri-food industry is a recent phenomenon — which may help explain why many consumers don't view it as a source of new jobs.
Agricultural jobs
Workers with experience in traditional industries like manufacturing, construction and engineering can often translate their skills to the agricultural industry.

Here are 5 agricultural jobs with translatable skills (and median salaries):
Farm equipment engineers and agricultural research engineers: Engineering farm equipment, analyzing soil and water usage, examining processing procedures ($72,720)
Farm product purchasing agents: Procuring products such as cotton and livestock for processing or resale ($64,750)
Fence builders and installers: Constructing or repairing fences ($33,570)
Agricultural equipment operators: Driving farm equipment, cultivating soil, harvesting crops, operating applicator machines (wide salary range)
Bus and truck mechanics and diesel engine specialists: Diagnosing and repairing farm vehicles ($40,010)
Source
:
Michigan Works!
From 1969 to 2000, Michigan lost 30,300 farming jobs as global competition intensified, according to a 2010 report by MSU's Land Policy Institute.
That decline has reversed in recent years as local farmers found new markets for their products, including foreign countries, local grocers and local consumers.
From 2002 to 2007, the market value of crops sold by Michigan farmers rose by 52.5 percent. During the previous 10 years, the market value of Michigan crops rose only 24.4 percent, according to the Michigan Department of Agriculture and Rural Development.
Hiring challenges
All of a sudden, the sector is growing and hiring — which recently led the East Lansing-based Michigan Agri-Business Association to take the unusual step of issuing a report acknowledging that the industry has an image problem.
Although the industry is booming, it's also aging — and it threatens to slow the industry's growth.
About 30 percent of the industry's managers are expected to retire within five to 10 years, according to the Michigan Agri-Business Association. Their average age is 56.3, according to the Michigan Department of Agriculture and Rural Development.
"Their replacements must be found quickly to avert a vacuum in leadership and skills that could hold back the entire industry," according to the report.
Michigan Agri-Business Association President Jim Byrum said the industry's recruiting challenges start with a basic misunderstanding.
"A lot of folks don't think about ag when they think about job opportunities, but we were the fastest growing segment of Michigan's economy in the last decade and probably will be in the next decade, so it's a pretty positive story," he said.
First, Byrum said, jobseekers need to understand that the industry is diverse and high-tech. In fact, most agri-food job opportunities aren't even on the farm. Michigan had about 56,000 "principal operators" of farms in 2007. Generally, their families work on the farm, too.
But the economic impact of the agricultural industry is amplified by the many people required to support a farm, such as truckers, machine technicians, various specialists, maintenance technicians and manufacturing companies.
As farmers flourish, they hire more specialists like Duane Kimpel, an Ohio resident who visits Horning Farm with an assistant to trim cow hooves once a month.
"For a large part of society, they would never see themselves working on a farm," said Jeff Horning, who runs the farm's day-to-day business. "There's so many things on a farm that happen. It's not the same thing every day. We do have specialists come here."
And, of course, farms generate jobs at local grocers and restaurants that are flourishing because of their focus on locally grown products.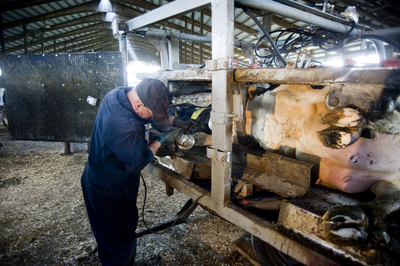 Joseph Tobianski I AnnArbor.com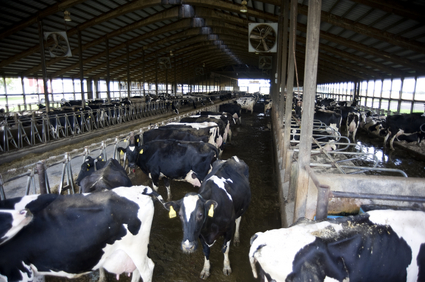 Joseph Tobianski I AnnArbor.com
Byrum said sales people are needed to market products and sell farm technology like crop protection systems, positioning farmers to expand their market presence.
"We can teach them ag, but they need to be able to talk to people and have great communication skills," Byrum said.
The industry needs skilled workers capable of handling advanced pesticide applicator machines, soil scientists, grain elevator operators and truck drivers in the most rural parts of the state.
Central to the recruitment challenge is a difficulty in convincing young people to consider the industry as a place to work.
Groups like Ann Arbor-based think tank Michigan Future Inc. have pumped out numerous studies showing that Michigan's top college graduates prefer to work in vibrant urban areas.
The Michigan Agri-Business Association acknowledges the dilemma.
For a lot of young people, it's "a matter of the quality of life, including entertainment, socialization with peers of a similar background and experience, fast and reliable Internet access (broadband), proximity to cultural activities," according to the industry's report.
But the industry is not just having a hard time recruiting young people. Byrum said the industry is even having trouble recruiting laid-off manufacturing employees in the state's most distressed urban areas.
"That's why we're reaching out as strongly and aggressively as we are," he said. "Ag used to be viewed as a dirty, dusty occupation, and it's not that way anymore for the most part."
Horning, who co-owns his Manchester farm with his son, Jeff, said most farmers are using high-tech equipment to maintain their crops and livestock and using the Internet to monitor price trends.
The Horning farm owns about 750 to 800 cows and calves and grows about 600 acres of crops — corn, alfalfa and wheat — that are grown to feed the animals.
At any given time, 330 are milked twice daily in Manchester, and another 200 are sent to a farm in Chelsea to be milked due to limited space in Manchester. The rest are too young to produce milk or are resting.
Joseph Tobianski I AnnArbor.com
From 4-9 a.m. and 4-9 p.m., the cows are milked. Two workers guide about 20 cows at a time into a high-tech milking station. The workers connect the cows' teats to the million-dollar Bou-matic ProVantage IMS, and the machine milks the cows.
After each session, the machine's software analyzes each cow's production and tells the workers if there appears to be a health issue with one of the animals.
Yes, the days of milking cows by hand are long gone.
Horning said the farm is proud to say it produces an average of about 10 gallons of milk per cow every day.
"That's very high," he said.
Although machines do most of the work, the realities of farm life can be jarring for people not used to the workload.
There's not as much manual labor as there was a century ago, but the Michigan Agri-Business Association acknowledged in its report that working the field can still involve "long hours" and a "lesser skill set."
Many local farms, including the Horning farm, hire seasonal migrant workers and immigrant workers to fill those jobs.
But many have a hard time finding people to take those positions, according to the Michigan Agri-Business Association report. "The dairy, pork, poultry, fruit and vegetable industries in Michigan need people to harvest their crops and care for their animals. While many are critical that immigrant and migrant populations fill many of these jobs, it is not because they are low-wage positions with poor benefits," according to the report.
Michigan agricultural facts and statistics

Michigan farmers produce more than 200 products at 56,000 farms with about 10 million acres of farmland.

71.3 percent of Michigan farms are between 10 and 179 acres.

74.2 percent of Michigan residents say the agricultural industry is "very important" to Michigan's economic recovery, while 22.8 percent say it's "somewhat important."

Michigan farmers sold $5.75 billion in products in 2007, up from $3.77 billion in 2002 and $3.03 billion in 1992.

Farmers sold $37.3 million in products directly to consumers in 2007.

Dairy is the largest segment of the Michigan agriculture industry.

Farms sell 2.7 billion eggs a year for $211.5 million.

The Michigan floriculture industry's 720 commercial growers sold $393.5 million in products in 2007.
Michigan is the nation's largest producer of tart cherries, blueberries, cucumbers, squash and black beans, among other products.
Michigan's grape and wine industry, including 70 wineries, had 5,400 employees in 2007.

Farmers exported more than $1.6 billion in goods.

Michigan has the fourth most farmer's markets in the U.S.

47,739 of Michigan farms' "principal operators" are men. 8,275 are women. Their average age is 56.3. 30 percent plant to retire within 5 to 10 years.
Sources: Michigan Department of Agriculture and Rural Development, Michigan Agri-Business Association, Michigan State University, MSU Land Policy Institute
"Many of these operations provide health care and other benefits, while paying well above the minimum wage. It has simply been very difficult, if not impossible, to find workers locally to do these jobs on a reliable basis."
Business opportunity
The agricultural industry has become lucrative for many. In 2010, Michigan farmers, in aggregate, made a profit of $1.82 billion, averaging more than $33,000 per farm, according to the USDA's Economic Research Service.
At the Horning Farm, which has eight full-time employees in addition to the Horning family members and many contractors, the performance has been strong, though Earl Horning declined to offer details.
One misconception about local farmers is that the entire industry is run by major corporations. In reality, Michigan's farming industry is dominated by families.
About 4.3 percent of Michigan farms reported sales of more than $500,000 in 2007, though that was up from 2.5 percent in 1997, according to the USDA. Individuals or families own 86.9 percent of Michigan's farms, while non-family corporations own 0.4 percent.
At the same time, Michigan agricultural exports have more than doubled over the last half a decade, rising to $1.75 billion in 2010, according to the Michigan Department of Agriculture. But small, family-owned farms often need help to pursue foreign markets.
The Michigan Economic Development Corp. and Michigan Department of Agriculture and Rural Development say that building infrastructure to support the expansion of agricultural exports offers an economic opportunity for the state. Exports of soybeans, feeds, grains and wheat are growing particularly fast.
Training Michigan's workforce to fill the various job opportunities within Michigan's agri-food industry must involve a number of players, the industry says.
Michigan State University is still the state's top destination for agricultural education — and most managerial positions in the industry require a college degree.
But the Michigan Agri-Business Association says community colleges also need to get involved in training workers for industry jobs.
Workforce development agencies are also moving to provide resources to jobseekers interested in pursuing jobs in the agri-food industry.
Mary Jo Callan, community development director for Washtenaw County, said her office is developing an initiative to provide a new job training program to prepare people to enter the industry.
"We're trying to provide some comprehensive job development training and opportunities for low-skilled, low-income folks, folks who have traditionally been left out of traditional workforce development efforts," she said.
She added: "The reality is that the local food movement and the farm-to-table movement has really reshaped people's perception about agriculture and about local food systems. So, is it hard work? Hell yes. But is it worth it, is it important work, is it work people can feel proud about? Yes it is."
Contact AnnArbor.com's Nathan Bomey at (734) 623-2587 or nathanbomey@annarbor.com. You can also follow him on Twitter or subscribe to AnnArbor.com's newsletters.