Posted on
Thu, Jan 3, 2013 : 11:33 a.m.
Former Michigan Book & Supply building sold for $5.8 million
By Lizzy Alfs

City of Ann Arbor
Editor's note: This story has been updated following an interview with an Agree Realty representative.
A Farmington Hills-based real estate company finalized a deal this week to purchase a high-profile building on the corner of South State and North University in downtown Ann Arbor, paving the way for a redevelopment.
Agree Realty Corp. acquired the 18,000-square-foot former Michigan Book & Supply building at 317 S. State St. for $5.8 million, the company announced on Thursday. Agree has leased the building to a retail pharmacy store, the company said in a press release.
In an interview with AnnArbor.com, Agree Realty President Joey Agree would not confirm the tenant, but in November, the company submitted an application to install Walgreens signs on the building.
File photo
"We are extremely pleased to announce the acquisition and redevelopment of 317 South State Street," Joey Agree said in a statement. "This is an exciting project, that once complete, will be a jewel in our portfolio of net lease assets and a fixture on the university campus for many years."
Agree Realty submitted the application to install Walgreens signs on the historic two-story building — which has been vacant since Michigan Book & Supply closed in early 2012 — to Ann Arbor's Historic District Commission in November. Located just steps from the University of Michigan's Diag, the building is one of the most prominent in downtown Ann Arbor.
"The former bookstore located at S. State St. and University is proposed to be renovated into a Walgreens store," the application said. "The existing building facade is to remain along with the interior structural elements. New signage is being proposed at this time."
Joey Agree said the building at 317 S. State St. is pre-leased under a 20-year agreement to "the industry leader in the retail pharmacy sector." The redevelopment is expected to be completed by the second quarter of 2014, he said.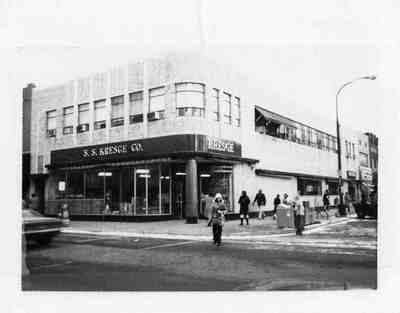 Ann Arbor District Library
"We're not able, because of the confidentiality with our retail partner, to disclose the tenant," he added.
Agree Realty has an established relationship with Walgreens — nationwide, its top three tenants are Walgreens, Kmart and CVS. As of Nov. 2, 32 percent of the company's annualized base rent came from Walgreen Co., according to a quarterly filing with the U.S. Securities and Exchange Commission.
Agree controls the Ann Arbor property on the corner of Jackson and Maple roads where a Walgreens was constructed in 2010.
The company also owned the former Borders headquarters on Phoenix Drive and a portion of the former flagship Borders store downtown, but lost or sold those properties after Borders liquidated last year.
"We have an affinity for Ann Arbor," Joey Agree said. "We think it's a great place to continue to invest capital. We have a long history in the city of Ann Arbor."
Most recently, Texas-based Hogarth Management, an entity controlled by the Borders family, owned the building on South State Street. Ann Arbor's First Martin Corporation managed the property.
The building — which was once occupied by discount variety store S.S. Kresge — has an assessed value of $1,031,500. It has 12,000 square feet on two floors and a 6,000-square-foot basement that Michigan Book & Supply used for textbook sales.
Michigan Book & Supply's lease began on July 1, 1989, and the store closed this year when its bankrupt parent company, Nebraska Book Co., filed for bankruptcy protection and closed 40 locations.
Just down the street at 209-211 S. State St., CVS Pharmacy opened a store in 2011 after it completed an $8 million project that preserved the historic facade, but demolished two houses behind it.
Joey Agree said the goal is to have plans submitted to the city of Ann Arbor in the "near term."
Lizzy Alfs is a business reporter for AnnArbor.com. Reach her at 734-623-2584 or email her at lizzyalfs@annarbor.com. Follow her on Twitter at http://twitter.com/lizzyalfs.