Posted on
Mon, Jul 22, 2013 : 5:59 a.m.
Michigan Commerce Bank to be sold at auction by holding company Capitol Bancorp
By Ben Freed
A judge in the United States Bankruptcy Court for the Eastern District of Michigan approved a plan on Monday that will allow Lansing-based Capitol Bancorp Ltd. to auction off a number of its banks, including Ann Arbor-based Michigan Commerce Bank.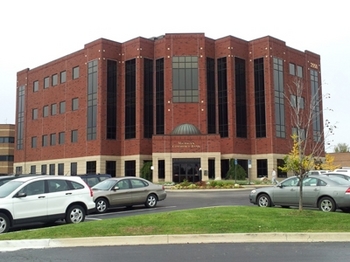 Photo from loopnet.com
Capitol Bancorp filed for
Chapter 11 bankruptcy in 2012
and originally planned to sell its entire network of banks worth about $2 billion as part of a "prepackaged" bankruptcy plan. According to
a story from DowJones.com
, that plan was abandoned after a major investor,
ValStone Partners LLC
, left the deal.
As a holding company, Capitol Bancorp at one point operated more than 60 small community banks. When it filed for bankruptcy, the company had 13 affiliate banks in 10 states and had sold off 24 banks - worth more than $2.1 billion - in the previous few years.
Michigan Commerce Bank is one of Capitol Bancorp's largest remaining affiliate banks, with offices in Auburn Hills, Brighton, Detroit, Grand Haven, Holland, Kentwood, Macomb, Muskegon, Farmington Hills and Pontiac. In 2010, federal and state banking regulators ordered the bank to correct "unsound banking practices."
At the time, the requirements from the Federal Deposit Insurance Corp. and the state's Office of Financial and Insurance Regulation included the creation of a plan to sell itself or merge into an institution not controlled by Capital Bancorp.
According to iBanknet.com, Michigan Commerce Bank ended the first quarter of 2013 with more than $621 million in assets and just less than $600 million in liabilities, with a bank equity capitalization of $21.52 million.
University Bank of Ann Arbor president and CEO Stephen Ranzini said that for banks to be in compliance with FDIC regulation, they have to carry approximately 10 percent of their assets in equity. This means that any bank that buys Michigan Commerce Bank would have to inject more than $40 million into the bank in addition to what it pays Capitol Bancorp in an auction.
"This is what you would call a 'fixer-upper,'" Ranzini said.
At issue for Michigan Commerce Bank is its loan portfolio: 19.7 percent is restructured, foreclosed or past-due.
"By comparison," Ranzini said, "(at) the average bank in Michigan that statistic is about 1.8 percent."
Only bank holding companies already approved by the FDIC will be able to take part in the auction. Ranzini said that there are a number of banks in Michigan large enough to purchase Michigan Commerce Bank, including Bank of Ann Arbor, Chemical Bank from Midland and First Merit Bank, which recently acquired Citizens Bank in Flint.
"The number of banks still in trouble is very low, so there's a scarcity value at this point for a bank like this that's in a good market and is decent sized," he said.
"There's more capital going around looking for deals like this than there are deals to be had, so they might get a good bid. This is really the last bank in Michigan that's in a lot of trouble."
According to court documents, Judge Marci McIvor ruled that the holding company's new plan is a "reasonable, sufficient adequate, and proper means to pursue the Sale(s) of the Banks and Other Purchased Assets." Judge McIvor added that the "time is of the essence" in her approval of the model purchase agreements and bidding rules for the auctions.
Some of the bank's creditors filed a motion to block the new plan because it allows the holding company to "toggle" between liquidation and reorganization if an opportunity presents itself. McIvor denied that motion, a move that should let the process head toward an auction.
Capitol Bancorp reported a net loss of about $1.6 million in the fourth quarter of 2012 in its most recently released earnings report.
The bank also reported that its consolidated assets had shrunk by about 27 percent during 2012 from nearly $2.2 billion to $1.6 billion on December 31. The company's assets are now worth about $1.3 billion, according to court documents.
In its earnings report, Capitol Bancorp also revealed that it has "entered into definitive agreements to sell its interest in two affiliates located in the Great lakes region." Capitol Bancorp has four affiliate banks in the region, Michigan Commerce Bank, Indiana Community Bank, Capitol National Bank and Bank of Maumee. It is unclear if Michigan Commerce Bank is one of the two that have definitive agreements to sell.
According to the Dow Jones report, McIvor has scheduled a confirmation hearing on the plan to sell Michigan Commerce Bank and other affiliates at auction for October 9.
Michigan Commerce Bank has a 0.41 percent market share in Michigan and a 3.8 percent share in the Ann Arbor metropolitan area where the bank is headquartered according to the FDIC.
Ben Freed covers business for AnnArbor.com. You can sign up here to receive Business Review updates every week. Get in touch with Ben at 734-623-2528 or email him at benfreed@annarbor.com. Follow him on twitter @BFreedinA2