Posted on
Sat, Aug 3, 2013 : 5:59 a.m.
Michigan grad student brings Rosie the Riveter to life to help Yankee Air Museum fundraising efforts
By Ben Freed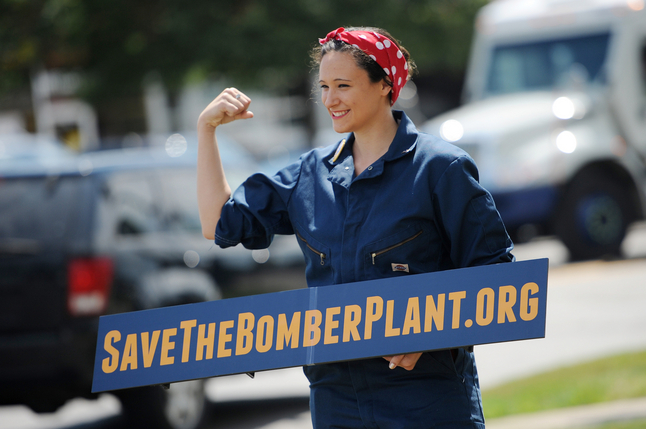 Melanie Maxwell | AnnArbor.com
As fundraising continues for
Yankee Air Museum
's bid to buy a piece of the
former General Motors powertrain plant
, one University of Michigan graduate student decided to make the campaign personal.
"Well, I love history, I kind of look like Rosie the Riveter and it was a really easy costume to put together," said Alison Beatty, who has been standing all week at the corner of Jackson Avenue and West Stadium Boulevard with a "SaveTheBomberPlant.org" sign.
"The response has been really positive. Everyone seems to connect to Rosie."
Beatty was moved to act when she logged onto the fundraising campaign's website three weeks after she first noticed the yard signs adorned with Rosie the Riveter that have been displayed around the region.
"When I finally went there were only five days before what was the deadline and I thought 'I wish I had gotten here earlier so I could have emailed all of my friends and family and asked them to donate,'" she said.
"The only thing I could think of that would have made me go earlier was someone attracting attention to the sign. So that's what inspired me to come out here and do the Rosie thing."
Beatty said that the "Rosie thing," has been a fun experience for her and made her realize how much appeal the character has more than 70 years after she worked at the plant just down the road.
"Guys love her, girls emote with her and people of all ages just really like her," she said. "That's something I didn't really get before I started all this but it's been great to see."
Friday was Beatty's last day in front of Zingerman's Roadhouse, where she said a number of people have tried to give her donations on the spot that she cannot accept. She plans on being at the Thunder Over Michigan Air Show at the museum on August 10-11, and she said that if she's making a noticeable impact she'll keep up the work through September and up to the new October 1 deadline.
Melanie Maxwell | AnnArbor.com
"I'm really passionate about Michigan history, and Detroit during the war was called the 'Arsenal of Democracy' because so many plants were switched over to building war machines," she said.
"… The history of what happened in Michigan with the rise and fall of the automobile industry, and the fact that we had the industrial and factory power to help win the war, is something really incredible that should be preserved."
Beatty grew up in the Ann Arbor area and went to Chelsea High School. She said her interest in Michigan history was piqued after her experience as an undergraduate student at the University of Texas at Dallas.
"Texans have so much pride for their state and the culture there, that it kind of made me feel the same way about Michigan," she said.
According to the campaign's website, on Friday afternoon approximately $4.5 million has been raised of the $8 million needed to save the portion of the plant that made B-24 Liberator bombers during World War II.
After facing an August 1 deadline, the museum was given a 60 day extension earlier this week by the Revitalizing Auto Communities Environmental Response Trust, the organization in charge of the property. The trust said in a statement that the fundraising effort's "success and momentum" made the extension possible.
On top of her state pride and historical interests, Beatty has a special connection to the B-24 bombers made at the Willow Run plant.
"My grandpa was actually a tail gunner in a B-24 Liberator bomber in the war," she said.
"The tail gunner is the most dangerous job, but he was a good shot, so they put him in the back. I think a part of this is to honor him and the other people who were involved in the war and everything that they did."
Ben Freed covers business for AnnArbor.com. You can sign up here to receive Business Review updates every week. Get in touch with Ben at 734-623-2528 or email him at benfreed@annarbor.com. Follow him on twitter @BFreedinA2